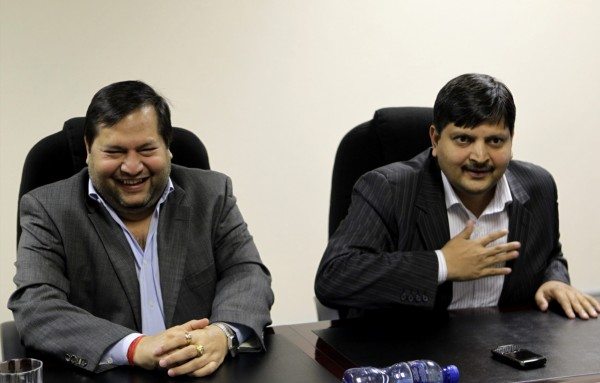 OAKBAY Resources and Energy, the company that houses the Gupta family's mining ambitions, said the business was intact despite the resignation of its auditing and banking partners.
It emerged last week that KPMG had severed ties with the Guptas citing 'risk of association'. "I can assure you that this decision was not taken lightly but in our view the association risk is too great for us to continue," said Trevor Hoole, local CEO of KPMG in an e-mail seen and reported upon by Reuters regarding the relationship with Oakbay.
Sasfin also confirmed it would terminate its relationship with Oakbay Resources effective from June 1 which it said was in line with an internally driven strategic review.
Oakbay Resources said in a statement to the Johannesburg Stock Exchange (JSE) today that the decisions of KPMG and Sasfin did not imply the company was in financial difficulty.
"The reason for KPMG's resignation is solely based on their assessed association risk and KPMG have indicated that there is no audit reason for their resignation," it said.
The termination of Sasfin's services "… follows a recent decision by Sasfin to align the strategic objectives of Sasfin's corporate finance division more closely with that of the broader Sasfin group," it added.
The relationship of the Gupta family with President Jacob Zuma has fallen under the microscope, especially over the last six months, following the award of the Optimum Coal mine contract to a subsidiary of Oakbay Resources, Tegeta Exploration & Resources. Zuma's son, Duduzane, is a shareholder in Tegeta.
Further controversy was stoked regarding the relationship following a statement by deputy finance minister, Mcebesi Jonas, that the Gupta's had offered him the finance minister post about the time Nhlanhla Nene was fired from the position.
Oakbay Resources said it was "in the process of identifying and appointing a new auditor and sponsor, but BDLive observed in an article that replacing KPMG in particular would prove troublesome for the Guptas.
Citing an unnamed investment adviser, BDLive said audit firms on the approved list of the JSE might have reservations about taking on a client KPMG had dropped. There are only 19 auditing firms accredited by the JSE in South Africa. Oakbay has to the beginning of July to find a replacement or risk de-listing from the bourse, said BDLive.
There have also been questions regarding Oakbay Resources' ability to fund the R2.15bn acquisition of Optimum Coal which it bought out of liquidation.
Shares in Oakbay Resources increased by 13.5% in the past 30 days valuing the company at R16.8bn.