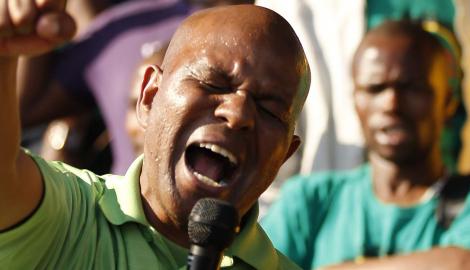 AFTER several months of relative quiet, Joseph Mathunjwa, president of the Association of Mineworkers & Construction Union (AMCU), stirred up fresh controversy vowing to bring the South African gold industry to a standstill in protest against "slave wages".
"In due course we will put the entire gold sector to a standstill," he said. "The salaries that the mine workers receive are slavery wages as they cannot to even buy bread for their families for the whole month nor pay for the children's education and food.
"We are not inciting war but our workers deserve more and we as AMCU are willing to do anything possible to ensure they receive a living wage".
This was how Mathunjwa signed off a media statement confirming his union would ask members employed at Sibanye Gold's operations to down tools on Wednesday (April 6). The union issued a strike warning at 9am earlier today.
Neal Froneman, CEO of Sibanye, said in a statement to the JSE today that the company had plans in place to cope with the strike. "We have developed robust plans to manage the potential impact of strike action at our operations and will implement these plans accordingly," he said.
"We will also be working together with other relevant stakeholders to ensure that the industrial action is conducted peacefully, within the framework of the agreed strike rules and in accordance with the law" said Froneman.
The action was expected after a rally at Sibanye's Driefontein, west of Johannesburg, in which unions members voted to strike. This was despite a Labour Appeal Court decision last month which effectively makes AMCU's strike illegal.
The Labour Court ruled that AMCU, as a minority union, would have to accept the wage increase agreement signed between the National Union of Mineworkers (NUM), UASA and Solidarity and the Chamber of Mines on behalf of Sibanye, AngloGold Ashanti and Harmony Gold in October last year. The wage pact, which offered entry level workers increases of up to 12.5%, was over three years.
Mathunjwa, however, said AMCU was actually the majority union at Sibanye Gold. "We will not be deterred by the Labour Court's verdict of dismissing our appeal nor will we be threatened by the employer because Sibanye and its CEO, Neal Froneman know as well as we do that we are the majority," he said.
AMCU has said in the past that Sibanye had failed to update its union membership figures at its operations. According to Sibanye, AMCU membership extends to about 40% of Sibanye's 45,000-strong workforce.
"Froneman is enriching himself with the blood of the workers and seems to have his sight set on becoming the next Anglo American of South Africa in the 21st century," said Mathunjwa.
Sibanye said it would not open new negotiations with AMCU after having signed wage deals with the other unions. "We wish to advise that the wage increases implemented in 2015 are final and the decision taken by the AMCU leadership will not yield a different outcome", said Froneman.
It also believed there wasn't much appetite for a strike among workers.