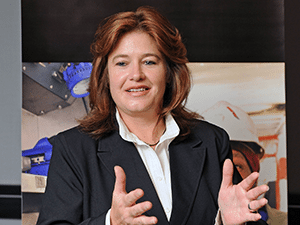 KEATON Energy CEO, Mandi Glad, has tried to reassure investors that once-off impairments and liabilities, which threw Keaton Energy into a R297.3 million net loss in the year to March, have helped place the company in a better position to move forward.
While its main asset, Vanggatfontein, produced consistent results, the company's inability to get its Moabsvelden project off the ground has proven costly.
Keaton has had to fork out R66.9m due in terms of a finance arrangement with Gunvor SA for the supply of 600,000 tonnes of coal from Moabsvelden in return for a prepayment of $4m. But the repayment kicked in after it could not meet its first delivery date of December 31 as it still awaits an integrated water use licence. Repayment terms have now been renegotiated.
Glad did not provide a progress report on two issues holding Moabsvelden back – the granting of the water licence, which was applied for in 2014, and conclusion of a supply agreement with Eskom other than saying that Moabsvelden remains core to Keaton's future strategy.
Keaton's results reflect a consistent performance at Vanggatfontein, which sold 2.2 million tonnes of thermal coal to Eskom, 2% down on last year.
Vaalkrantz, the thorn in Keaton's side, is essentially disposed of following the sale of its anthracite operations Leeuw Mining and Exploration (LME) and Amalahle to Bayete Energy Resources. It has, since year-end, been placed on care and maintenance as low coal prices, a force majeure declared on LME by its biggest customer and the unavailability of water due to the drought have brought it to its knees.
Once-off items which threw Keaton so deeply into the red include a R159.2m impairment charge relating to Vaalkrantz. "The final straw was when our single biggest customer declared force majeure on us," Glad said, adding that all staff have been retrenched apart from a skeleton crew which remains on site.
Keaton CFO, Jacques Roussouw, said the balance sheet reflected the impact of Vaalkrantz on the group. The balance sheet is strained. Net debt to equity almost doubled and current liabilities exceed current assets by R120.3m, although Keaton reports as a going concern due to its cash generation abilities.
Its ability to generate cash is something Glad reminded investors to take into account when they value the company, which she she said traded substantially below asset value.
Glad said this past year has been one of housekeeping, but "the future looks bright".
Keaton now focuses on a single, long-life operation and sees Moabsvelden "as a cut and paste" of Vanggatfontein. "Our strategy is to move with vigour to develop Moabsvelden and maintain a simplified and clean company," Glad said.