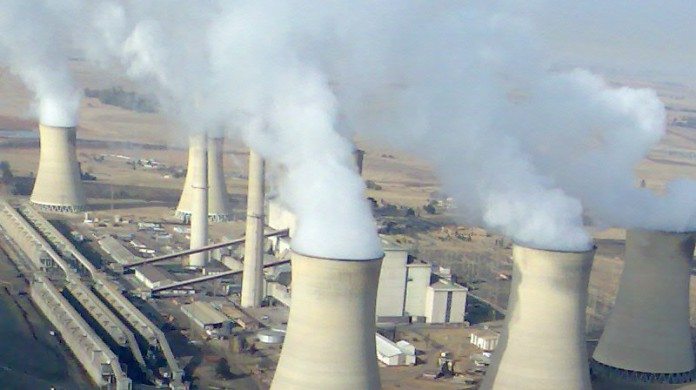 EXXARO Resources said Eskom would provide R1.8bn to expand the Matla mine after the mining firm reduced the cost of the proposed expansion by about R1bn.
Executive head of Exxaro's coal operations, Nombasa Tsengwa, said in a conference call today that Eskom had asked Exxaro to optimise its expansion plans for Matla and had, about two weeks ago, agreed to stump up the sum.
Earlier today, Exxaro Resources said in an announcement that it would to continue to "… engage Eskom to provide the required capital funding" for Matla.
Commenting in its financial director's interim period pre-close comments, Exxaro said that it "… was considering available recourse in terms of the CSA" [coal sales agreement] in order to secure the capital. Exxaro's interim period ends on June 30.
The issue of Eskom funding the development of new coal resources is sensitive after the utility's CEO, Brian Molefe, said the organisation was no longer interested in securing long-term coal supplies in that manner.
Historically, Eskom paid for the capital expense of a coal mine development up front in return for exclusive coal supply to its power stations at a cost fixed at a percentage above the mine's operating cost.
Molefe wants Eskom to sign shorter-term coal contracts, or work in the spot market, where it can have more flexibility, and buying power, in driving down coal procurement costs.
The issue came to a head when Exxaro last year decided to shut its Arnot mine, which exclusively supplied Eskom's Arnot power station, after Eskom refused to pay the capital cost of replacing the mine's resources through expansion.
The closure of the mine turned acrimonious and it is still rumbling on with the two sides expected to take the dispute of liability for Arnot's closure costs to arbitration, possibly beginning early next year.
Currently, Matla was under-delivering into a CSA with Eskom because a section of the mine had been exhausted and was closed. Said Exxaro: "Large capital projects at Matla remain unfunded by Eskom, with mine 1 on care-and-maintenance.
"In the meantime, the remaining mine shafts (mine 2 and mine 3) are expected to produce 8.5 million tonnes (mt) for FY16 against contractual volumes of 10.1mt," the company said in its announcement.
"We continue to engage Eskom to provide the required capital funding and are considering available recourse in terms of the CSA," it added.
In a conference call subsequent to the announcement, however, Tsengwa said there had been agreement with Eskom. "Matla is very important because it is [provides] baseload [electricity]," she said. "Of all the captive mines, they [Eskom] have really shown interest that it can be sustained," she added.
Commenting on funding the expansion of Matla, she said: "We have a long – I don't want to say struggle – but we were waiting for Eskom to provide [the funds].
"In the beginning, the shaft was too expensive for them so they asked us to optimise which we did by reducing it from R2.8bn to R1.8bn. It's been a long 10-year interaction, but Eskom will provide funding," she said, adding that R1.8bn was the outstanding capital required from Eskom. "They promised they would make it available as of two weeks ago."
In the meantime, some 1.5mt in production would be lost from Matla, said Tsengwa. Exxaro would re-deploy employees from shaft 1 to shafts 2 and 3 in order to make up some production, but there would still be losses in volume and quality. Matla supplies coal to Eskom's Matla power station.
COAL ASSET REVIEW
Exxaro also said that it was conducting a review of its coal mining operations which raises the prospect of another round of closures or sales. It has already closed Inyanda and Arnot and has sold its New Clydesdale Colliery, all in Mpumalanga province. It has targeted growth in the Waterberg coalfields of the Limpopo province.
Said De Klerk: "We are also reviewing our coal portfolio as part of our optimisation programme, with specific focus on closure and/or divesting from assets that do not meet our expectation of net present value, robustness of earnings and net operating profit margins that can withstand a low commodity price environment".
In this vein, Exxaro had decided not to proceed with an underground coal gasification project which it had impaired in 2014 for about R202m. Alternate projects may be considered in future, it added.
BLACK ECONOMIC EMPOWERMENT
Exxaro said it was "making progress" with replacing its current black economic empowerment (BEE) structure which may see a "replacement transaction" that lowered the group's BEE to below 50%.
"The replacement transaction needs to balance our requirement for continuous BEE shareholding and cost of implementation to minority shareholders," said De Klerk.
"As a result, Exxaro is exploring various alternatives for the replacement transaction, including potentially implementing a transaction that will be less than 50% BEE," it said.
Currently, Exxaro's BEE interests are concentrated in a 'holdco' known as Main Street 333 which has a 52.09% stake in Exxaro. A further 0.8% of the company is held in Mpower, an employee share scheme.
"Discussions with Main Street 333 and our internal preparation work for the replacement transactions are progressing and we should be in a position to provide further guidance in due course," it said.
IMPROVING COAL BUSINESS
There would be an improvement in the financial performance Exxaro's core coal business in the second half of its financial year compared to the second half of its 2015 financial year, De Klerk said in his note.
The anticipated improvement was put down to the inclusion of production from ECC, formerly known as Total Coal, and more stable domestic coal market conditions as well as increased sales from Grootegeluk and Matla.
However, the global market remained subdued despite a brief rally in currencies and commodities in the early months of Exxaro's 2016 financial year.
For the six months ended June, prices would be lower for export thermal coal at an average of $53/t compared to $56/t in the first half of last year while the iron ore price would average $52/t versus $60/t previously.
Exxaro is exposed to iron ore through its 19% stake in Kumba Iron Ore. It also has a 44% stake in US-listed mineral sands company Tronox which has struggled against low market prices in its sector.
De Klerk said there was a risk of impairing Exxaro's stake in Tronox owing to a decline in the firm's share price and a weaker exchange rate against the dollar. On a 12-month return basis, shares in Tronox are down about 71%.
De Klerk, who is leaving Exxaro for the CEO role at steelmaker ArcelorMittal South Africa, would be replaced by Riaan Koppeschaar.