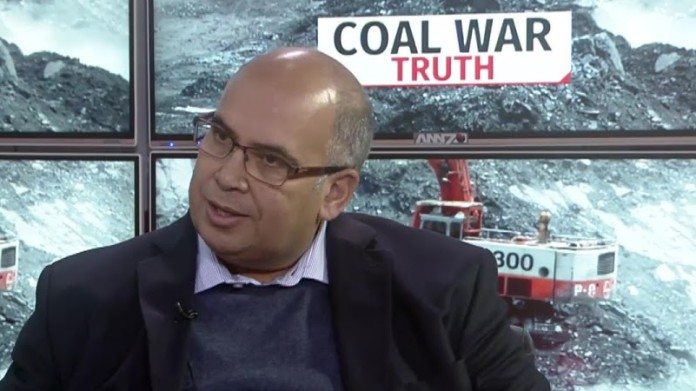 UNLISTED firm Oakbay Investments said developing its coal export capacity and advancing its 'uranium plan' were among its key strategic goals, whilst an open pit extension of its Koornfontein mine was under consideration.
The group also said that it intended to "reach out" to South Africa's banks in an effort to have its bank accounts opened following a decision by key shareholders – the Gupta family – to relinquish their investments in the company.
Commenting in the publication of its 2016 financial year, which closed February 29, the group's CEO, Nazeem Howa, said he wanted to dispel myths that the business was cheek-by-jowl with the South African government. "Nothing could be further from the truth."
Howa said about 8% of revenue was linked to government contracts and that the company was paying the price for "disrupting industries".
Oakbay, which owns 79.99% of Johannesburg-listed firm, Oakbay Resources & Energy, was under no compunction to publish its financial years, but had done so to "… dismiss the myth that we are heavily reliant on government business," said Howa.
Among Oakbay Investments' shareholders are the Gupta family whose business interests are led by three brothers – Atul, Ajay and Rajesh. The family has been criticised in broader South African society for its close business links to the country's president, Jacob Zuma.
Earlier this year, South Africa's four largest banks closed their accounts with the Oakbay Investments group of companies.
Although precise reasons for terminating business relations with Oakbay Investments have been kept confidential, the Banking Association of South Africa said in April that banks, among an array of considerations, "… must obey the current Financial Intelligence Centre Act' impending amendments to this act, and anti-money laundering regulations".
Said Howa: "Our South African bank accounts remain closed and we remain none the wiser as to why that is the case, despite asking the four relevant banks multiple times, for reasons".
The company intended to "… reach out in the coming weeks, again, to the four banks, and implore them to reopen our accounts" following the Gupta's divestment decision. Eskom, to which Oakbay Resources sells coal, said it had not received formal notification the Guptas wanted to divest of their company investments.
COAL AMBITIONS
Among three strategic targets for Oakbay Investments, was developing its Shiva uranium mine in which it has an indirect 59.2% stake through Oakbay Resources.
It also wanted to develop "… an export capacity within our coal mining facilities for which the current coal price is encouraging". Its third ambition related to its media business. Oakbay Investments also has business interests in information technology.
This comment may cast aspersions on speculation, reported in Miningmx earlier this week, that the company had sold some 6 million tonnes/year of export entitlement from Optimum Mine which Oakbay Investments holds through its 29% in unlisted subsidiary, Tegeta Exploration & Mining.
Richards Bay Coal Terminal has declined to comment on the matter after market whispers suggested Vitol, a trading company, had bought the entitlement for R3.6bn. Vitol has also declined to comment.
Oakbay Investments also has a stake in the Brakfontein mine (through Oakbay Resources) which recently received a water use licence ahead of supplying coal to Eskom. The only other coal mine in the Oakbay Investments group of companies is Koornfontein which is held in Tegeta.
Howa said Tegeta supplied 1.49 million tonnes of coal to Eskom during the year under review, equal to 1.25% of Eskom's total coal supply. "Export quality coal is being produced at both Optimum and Koornfontein, and with increased production both mines are exploring opportunities to open up export markets," said Howa.
Optimum and Koornfonfein were bought out of business rescue proceedings earlier this year for some R2.15bn after Glencore closed the mines citing loss-making production.
Howa said the Tegeta had been able to grow production and enhance efficiencies. Coal production increased to 250,000 tonnes monthly from 170,000 tonnes/month between April and July while the cost of production fell 21%. "Plans are now being developed to launch an open-cast operation at the mine, which will create further jobs in the area."
At Optimum, a second drag line is now operational and a third is expected to come on-stream in the third quarter. Open cast coal production had increased to 440,000t/month in July from 180,000t/month in December while cost of production had been lowered 28%.
Underground coal production has increased to 420,000t/month from 370,000t/month while lowering costs of production by about 10.2%. Glencore mostly supplied Eskom's Hendrina power station from underground production.
Commenting on the group's stake in Shiva, Howa said the operation was producing gold but the uranium plant remained in mothballs until the market improved.
Critics have said the Department of Energy's determination to push into nuclear power production despite it being discouraged as too expensive in the National Development Plan and last iteration of the Integrated Resource Plan (2010) was to partly provide a market for the Shiva mine.
Said Howa: "To be very clear, as there has been much misunderstanding about this matter, our uranium operations have nothing to do with the wider South African nuclear story. Our expectation is that our life of mine will have comfortably passed before South Africa is ready for nuclear".