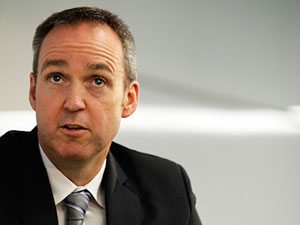 SOUTH32 CEO, Graham Kerr, said the Perth- and Johannesburg-listed group would not seek out new coal investments as there was a growing investor preference for clean energy.
"At the moment, it's a small part of our business [investor concern about its exposure to coal] but it is becoming more an issue," said Kerr in a media round table. "We will invest in our South African coal assets because half of our production is supplied domestically, and I think that market is going away for a significant time.
"But we wouldn't look for new coal investments as it's not worth it for the investor exposure," he said. Increasingly, investors don't want to be exposed to coal, he said.
The adoption of renewable energy would also affect the price of coal. "In the longer term, it will be difficult to know the price of coal owing to competition from other forms of energy," said Kerr.
South32 last month forecast relatively stable production from its South African thermal mines at some 31 million tonnes in the current financial year with a slight dip in the 2018 financial year.
Kerr said during South32's full-year financial results that a greater proportion of coal would be sold domestically owing to more competitive export markets.
South32 is running the feasibility of extending production at both its Khutala and Klipspruit mines, with production from the latter mostly sold in exports.
The 13.3 million tonne/year Khutala mine, however, was subject to negotiations with Eskom which bought its coal. Kerr said that the firm's relationship with Eskom was solid despite the state-owned power utility running an aggressive campaign against fixed cost coal procurement.
Eskom is also currently embroiled in an investigation by the National Treasury which wants to examine the nature of business between it and Oakbay Investments, the holding company for the politically influential Gupta family.
Kerr acknowledged that political risk in South Africa was high and that this was a concern for his shareholders. "There is no doubt South African risk was a big concern in the UK and US," he said referring to the conditions when South32 was first listed last year following the demerger of assets from BHP Billiton.
"That continues to be a point of focus, but probably less so as we have been explaining that we've been running the assets for many decades," he said.
"South African politics by nature is quite noisy; and the regulatory uncertainty does concern investors. but we are bringing investors through to see the South African assets and the quality of its people," he said.