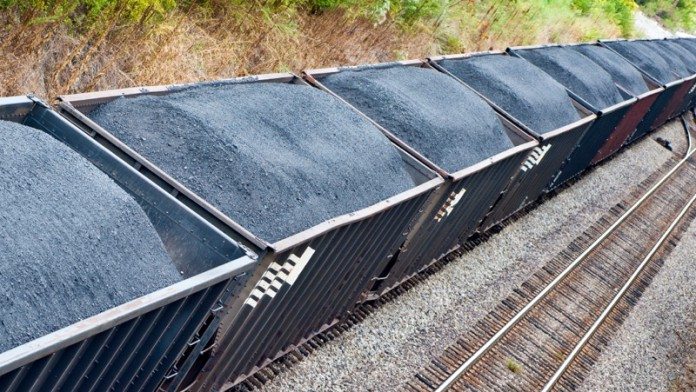 TRANSNET'S plans to boost export coal deliveries to 81 million tonnes a year (mtpa) has been quietly shelved.
CEO, Siyabonga Gama, told Miningmx on the sidelines of the company's interim earnings announcement last week that whilst the company has the capacity to deliver the tonnes, it just doesn't have the coal. "It's not a target that we currently have at the moment," said Gama.
Questions about the ability of South Africa's coal industry to match the ambitions of the state has longed been posed. Initially, Transnet said 81mtpa of export coal to ports in Richards Bay, Durban and even Maputo in Mozambique was but a staging post ahead of a more ambitious 94mtpa, and even 110mtpa if the coalfields of Botswana could be persuaded to send their coal south.
It even floated the idea of building its own coal export terminal to rival that of Richards Bay Coal Terminal (RBCT) following a spat over coal rail tariffs involving shareholders of RBCT and then Transnet CEO, Brian Molefe.
Transnet's interim results show only a small improvement in export coal numbers. The closest Transnet got to this target was some 76.3mt in its 2015 financial year before deliveries fell heavily to 72.1mt. Transnet railed 45.2mt in the first half of the current financial year compared to 44.4mt at last year's interim point.
However, Mlamuli Buthelezi, chief operating officer of Transnet, said there were signs of "green shoots" in the commodity market most typified by the significant improvement in the coal price this year.
"It is absolutely significant," said Buthelezi of the improvement in thermal coal prices. "What we have seen in the past two months is that we are beginning to run trains to Maputo – about 20 trains a week from about five previously.
"Demand at RBCT looks much healthier which is coupled with improvements in our on-time departures and arrivals," he said. "Equally, coal to Navitrade (a coal terminal which is also in Richards Bay and which is owned by Grindrod) is getting to 19 to 20 trains a week. We are seeing good demand coming through on all channels," he said.
Gama also said that if the improvement in the coal market continued, it might be possible to accelerate the development of the coal rail capacity expansion in the Waterberg region, in South Africa's Limpopo province.
"In terms of the Waterberg, we have tried to improve the existing line. The planned upgrade has now moved from 2019 to 2022 or thereabouts. If the coal price continues to recover that could probably be accelerated," he said.
Transnet said in October last year that the expansion of its Waterberg capacity would be put out to 2021. It had earlier signed off on expenditure of R5bn to lift coal railing capacity from the Waterberg coalfields to about 6mtpa from 2mpta – an important step in eventually expanding the line to about 27mtpa.