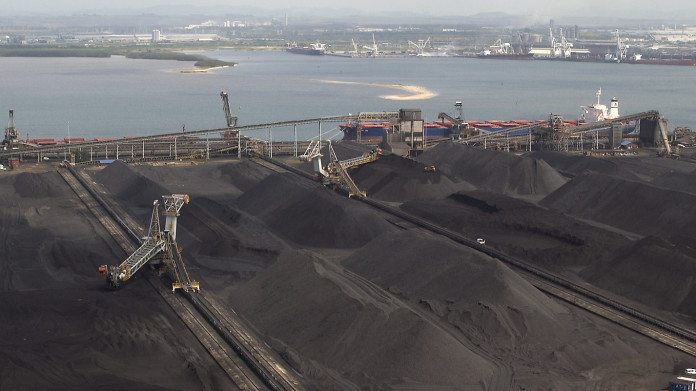 EXXARO Resources said its coal mines registered a solid performance in the first half of its financial year lifting production 4.7%, but it would nonetheless press ahead with a portfolio restructuring in the fourth quarter.
The group, which was commenting in its finance director's pre-closed interim message ended June 30, also said it had made progress in the structuring of a black economic empowerment (BEE) deal, also due for fourth quarter completion.
Total thermal coal production came in at 22.4 million tonnes (Mt) in the first six months of its financial year compared to 21.4Mt in the previous six month period.
Export prices during the period would average at around $79/t, a strong improvement year-on-year, but Riaan Koppeschaar, Exxaro finance director, was sceptical prices would be maintained at this level for the remainder of the 2017 financial year.
"There is consensus in the market that coal prices should decline [in the second half] due to a lack of structural support for prices in the mid-$70/t range," said Koppeschaar.
Capital expenditure was expected to increase a fifth compared to the first half of Exxaro's 2016 financial year owing to the timing of expansion capex at Grootegeluk and Belfast. Total capex, however, would be 10% lower owing to the timing of stay-in-business capital.
Exxaro is struggling to get its Thabametsi and Belfast projects away owing opposition from environmental groups. In the case of Thabametsi, which was planned to supply a 600MW power producer, South Africa's environmental affairs minister is to consider a climate impact assessment report before deciding whether to issue an environmental authorisation.
The initial authorisation was set aside following successful legal proceedings in the Pretoria High Court by Earthlife Africa Johannesburg. Exxaro said it had started initial mining work in order to protect its mining license.
Construction of Belfast, a proposed export thermal coal mine, will most likely be delayed to September from July whilst the mine's local municipality sets a date for an appeal into the rezoning of the project.
Commenting on its portfolio restructuring plans, Exxaro said it had completed a review "… with specific focus on closure and/or divesting from assets that do not meet our expected value, robustness of earnings and net operating profit margins".
ESKOM WOES
The extension of Exxaro's Matla mine, which supplies Eskom, remained unfunded. The mine was expected to produce 7.7Mt during the 2017 financial year compared to contracted volumes of 10.1Mt. Production would be from Mine 2 and Mine 3; Mine 1 was on care and maintenance.
"Exxaro continues to engage with Eskom to provide the required capital funding as per the tied mine coal supply agreement (CSA) which will enable the achievement of contractual production and sales volumes," it said.
In June last year, Eskom said that it would invest R1.8bn in extending the life of Matla, but by November the mine remained unfunded. Total capital required for Matla, the contract for which expires in 2023, is up to R3bn in the long-term. Deterioration of production volumes is evident: the mine produced 8.2Mt in the 2016 financial year.
South African coal producers have told Miningmx that getting sign-off on new CSAs has been problematic amid management upheaval at Eskom – itself a function of governance concerns, especially regarding its coal procurement practices.
Exxaro also said it remained in arbitration with Eskom regarding contractual arrangements at Arnot, a mine that was put on care and maintenance after Eskom said it would not invest in new coal mining at the operation.
BLACK ECONOMIC EMPOWERMENT
Commenting on its proposed BEE deal, Exxaro said two agreements had been signed on June 25 involving Exxaro and its existing BEE partner Main Street 333 (MS333), a company in which former CEO, Sipho Nkosi and Mxolisi Mgojo, Exxaro CEO, are shareholders, and the Industrial Development Corporation (IDC), as well as two special purpose vehicles used in the transaction.
One is a framework agreement that will be used to govern the redemption of the MS333's 50% stake in the business and the other is a relationship agreement setting down the terms of a replacement BEE deal which will hold 30% of Exxaro. The key elements of the transaction is that Exxaro will purchase the MS333's shares for a 5% discount to a still-to-be-determined reference price.
The second important element is a relationship agreement between participants in the replacement BEE structure which will consist of a reinvestment by the IDC as well as MS333 shareholders using the proceeds of the previous unwind.
The upshot is that current Exxaro shareholders will have to absorb 7.4% net dilution as shares are sold, repurchased, and new shares equal to about 22% of the replacement BEE transaction are issued. The replacement BEE transaction will hold a 30% stake in Exxaro which is in line with the ownership target set down in the gazetted Mining Charter 3.