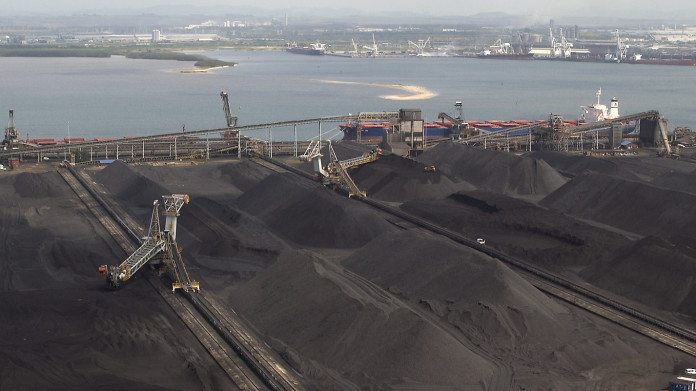 SOUTH32's South Africa coal production for its 2017 financial year, which closed June 30, fell 9% owing to adverse weather conditions and a delay in development at Wolverfontein-Middelburg Complex (WMC).
Commenting in its 2017 production report ahead of its financial figures in August, the Perth-headquartered group said, however, there had been an improvement in South Africa coal production rates in the final quarter of the year.
Other notable aspects of the production report was record aluminium production, up 2%, at Mozal, South32's Mozambique-based aluminium smelter, and a 19% lift in manganese ore production from South Africa as the group sought to take advantage of stronger demand and pricing for the steel-making mineral.
"South Africa energy coal saleable production decreased by 9% or 2.8 million tonnes (Mt) to 28.9Mt in FY17 despite an 11% improvement in performance in the June quarter as throughput increased at the WMC export plant," it said.
"The impact of adverse weather and the associated delay in the development of new mining areas at the WMC will continue to weigh on performance in FY18," it said.
"Export sales in the June quarter were impacted by a severe storm that affected the Richards Bay Coal Terminal and deferred shipments into FY18," it added. Export sales from South Africa fell 22% year-on-year to 11.8Mt from 15.2Mt.
In Australia, the group's silver and lead mine, Cannington, reported a heavy decline in ore grades and metal production during the year while "challenging ground conditions" were a feature of metallurgical output at Illawarra. Output at Illawarra's Appin section was suspended on safety concerns.
South32 is a favoured stock currently owing to its strong cash generating ability. The group has undertaken to return 40% of net earnings and distribute net cash above a $500m buffer. It announced in its 2017 financial year a $500m buy-back programme of which about $211m had been repurchased as of June 20 at an average price of A$2.66 per share.
"We intend to continue buying our shares at a similar rate in FY18, assuming the on-market option remains an efficient mechanism by which to return excess capital to shareholders," South32 said. It added the published redraft of the Mining Charter in South Africa – currently suspended following an interdict application by the Chamber of Mines – had led to "additional uncertainty".