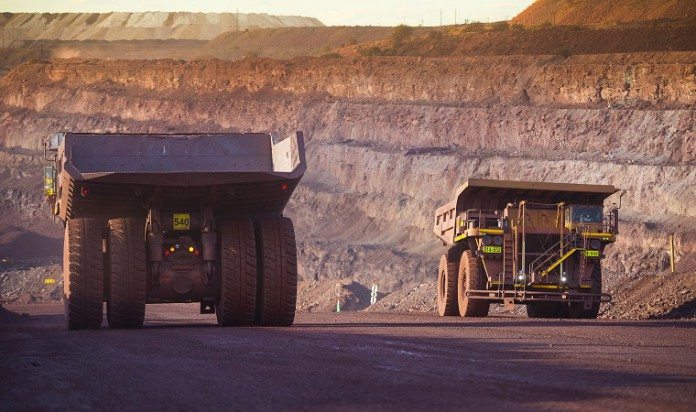 KUMBA Iron Ore and De Beers were among the stand-out performers for Anglo American in the group's half year ended June 30 production report with the two firms lifting output 38% and 36% respectively.
"The production ramps at Gahcho Kué, Mines Rio and Grosvenor are … contributing to these ongoing positive performance trends," said Mark Cutifani, CEO of Anglo American in a statement. "We have increased the full year production guidance for Kumba Iron Ore and are on track to deliver full year guidance across the rest of our products," he said.
Kumba Iron Ore, which is expected to be an important cash generator for Anglo, increased its full-year production guidance by up to three million tonnes (Mt) more to 43Mt from previous guidance of 40 to 42Mt. "Production was a 13% beat versus our estimates driven by strong performance at both Sishen (15% ahead of us) and Kolomela (10% ahead of our estimates)," said Goldman Sachs in a report.
Output at Sishen, 38% higher at 7.9Mt, and the 11% increase to 3.5Mt at the Kolomela premises in the six month period, was put down in both cases to productivity improvements. The ramp up at Mines Rio was behind the 24% increase in production to 4.3Mt. Its full-year production guidance was unchanged at 16 to 18Mt on a wet basis.
Rough diamond production from De Beers, in which Anglo has an 80% stake, increased 36% to 8.7 million carats with Gahcho Kué increasing output six times to one million carats in line with its nameplate capacity.
There was a decline in sales volumes, however, owing to one less sight (tender) in the first six months of 2017 compared to last year while restocking of buyers also reduced demand year-on-year.
Average realised prices were also lower which, at $156 per carat, were down 12% year-on-year – an outcome that reflected the lower value mix. The lower mix was related to a demand increase for lower value goods in India where a recovery from its demonetisation programme was recorded during the period, said Anglo.
De Beers full year guidance remained unchanged at between 31 to 33 million carats.
Export coal production from South Africa was 8% lower at some 4.1Mt in the six months owing to operational challenges at Anglo's Khwezela operation associated following the integration of the Kleinkopje and Landau mines. There was an expected and temporary reduction at Mafube as the mine moved to a new pit. Anglo's Eskom-related production increased by 3% to 6.9Mt.
Full-year production guidance at Anglo American Platinum (Amplats) remained unchanged at some 2.35 to 2.40 million ounces. On a year-on-year basis, output from Amplats' own mines was a quarter lower at 283,700 oz following the sale of its Rustenburg operations in November to Sibanye Gold.
Refined platinum production decreased by 29% to 528,700 oz primarily due to the Waterval smelter run-out and a high pressure water leak at the Converter Plant, as previously reported.
As a result of these operational issues at the processing facilities, a total of 90,000 oz of refined platinum production has been deferred from the second quarter to the second half of Amplats' financial year.