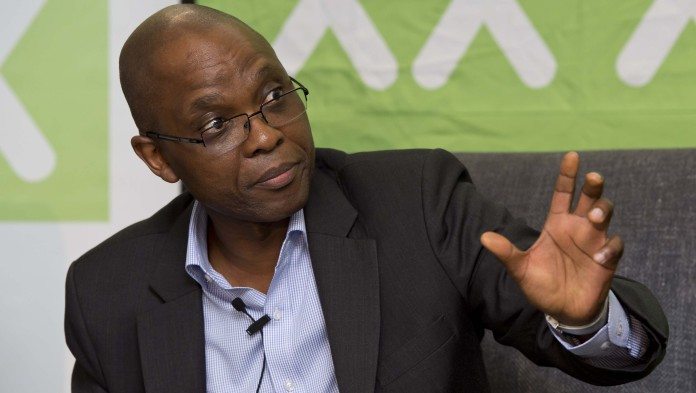 MXOLISI Mgojo acknowledges the need to put his "own stamp" on Exxaro Resources, the coal, mineral sands, and iron ore company to which he was appointed CEO in 2015. Quite how far this has been achieved so far, however, is debatable. As eventful as life has been at Exxaro, much of his work so far has been to give form to strategic decisions undertaken by his larger-than-life predecessor, the irrepressible Sipho Nkosi.
This has included setting in motion a new empowerment transaction that replaces a previous structure that had met its 10-year contract end. Second, the company has announced its intention to exit its 43.66% stake in Tronox, a mineral sands business listed in New York. The continued investment in Tronox had been a source of uncertainty in Exxaro for a good many years. But in the handover period from Nkosi to Mgojo, it was suspected Exxaro might be heading for the exit in respect of Tronox.
As a part in the sum of the strategy, selling Tronox is a popular idea. Macquarie Bank, for instance, gave the investment no relevance in its valuation of Exxaro owing to the heavy debt carried by the mineral sands firm. "Furthermore, given a negative earnings contribution from Tronox, we actually believe that the market could be attributing a negative value for Tronox in Exxaro," the bank said in March. "Unlocking this value through a cash sale could be R20 to R30/share accretive to our valuation for Exxaro," it said.
A third, somewhat more surprising step, has been to continue restructuring the firm's core coal holdings, a process that has involved selling collieries that no longer meet the firm's investment return hurdle rate. As the former head of Exxaro's coal division, Mgojo would be the person who knows best about this.
Asked about his reception in the investment market, Mgojo is practical. "To a large extent, I was fortunate in that most of the guys in the market have known me since the time I was running the coal business. So they were probably not seeing a stranger when I became the CEO," he said.
"But obviously, I've got to put my own stamp [on the firm] going forward. You know, you can't please everybody, but so far, what we've said that we were going to do we have done," he added. How then does Mgojo intend to make his mark?
It would seem that there's a long-term strategic intent to stay in the energy sector but with a view to extending the South African footprint to sub-Saharan energy. One surprise is Mgojo is not wedded to coal as an energy source, especially if technological innovation – such as battery storage improvements – can popularise other forms of base-load electricity. It is a strategy Mgojo describes as trying to anticipate market disruptive technologies.
"If we are going to play in energy – and in renewables – then we've got our play in Cennergi," he said, a reference to Exxaro's 50/50 joint venture with Tata Power, a renewable energy producer based in India.
Cennergi had already installed 234MW of renewable energy capacity, but Mgojo asked whether there is a requirement to build on this scale in the future. "We are saying how do you build a small genset, bring in other smart systems, smart platforms, and get that to work with the right partners," he said.
"Once you get that you ask how you roll it out to the rest of Africa because there is a need for that energy.
"The truth of the matter is that I don't know how many coal-fired power stations you're going to be able to build in the middle of Africa where there's no infrastructure to get the coal there." Currently, many African consumers are burning diesel, which is expensive.
This concern with market disruptive technologies is driven by the fact that Exxaro has reverted to a single-commodity business, to all intents and purposes. In its Mayoko iron ore project in the Republic of Congo it was clear Exxaro was hoping to build a diversifying asset over which it had control, and it operated.
Unfortunately, the project ended badly – the single most abject failure of Nkosi's career at Exxaro – and made plainer the fact that Exxaro's other commodity exposures outside of coal were ones in which it did not have operating or strategic control: such as its 19.9% in Kumba Iron Ore, and the stake in Tronox, which it will now sell.
I don't know how many coal-fired power stations you're going to be able to build in the middle of Africa where there's no infrastructure to get the coal there – Mgojo
Even in the coal space, Exxaro is potentially vulnerable. Politically, it is an unpopular mineral; despised by environmentalists, outright rejected by certain sovereign funds such as Norway's $870bn wealth fund. And in Eskom, Exxaro has unpredictable partner.
The advent of graphene is another illustration of concern for Mgojo. It has been described as stronger than steel, lighter and cheaper to manufacture. That's problematic to the steel industry and the industries that supply it such as companies that mine metallurgical coal, used in the steel-making furnaces.
"All I'm trying to say is that there are those who will say: 'We invest in you just to mine coal.' I say: 'Good, I hear what you are saying. Coal still has a long runway, but what does graphene say to you in terms of supplying the steel industries? What does coal say to you with the renewables?
"We've seen in Europe, for instance, there's a big drive towards this. So the fact that we have may 40-year contracts with Eskom doesn't mean the rest of the world out there is not going to change. And, therefore, how do you prepare yourself for that?"
Mgojo has some convincing to do among certain analysts. One analyst note earlier this year, described the energy diversification strategy as "confusing" and "opaque". It said: "We find the company's stated long-term strategy of 'energy diversification, focusing on growth in renewables, disruptive technology on the African continent' confusing given the lack of detail and negative outlook on long-term fundamentals for the coal coal business."
It's still early days, but Mgojo has his work cut out.