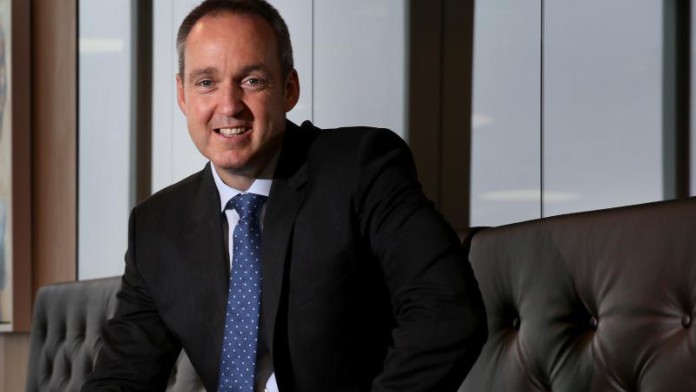 SOUTH32 has unveiled plans today to reduce its exposure to South Africa by announcing a proposal to separately manage its coal operations in the country – a strategy that could see it list the business in Johannesburg.
Graham Kerr, CEO of South32, has been outspoken lately regarding the political risk tied to its South African operations and earlier this year, took the Department of Mineral Resources to court in an effort to have a mining permit granted for the extension of its Klipspruit mine – which it also approved today at a capital cost of R4.3bn.
"Establishing South Africa Energy Coal (SAEC) as a stand-alone business will enable us to improve the operation's competitiveness and ensure its ongoing sustainability," said Kerr in a statement. "This process will also allow us to further simplify our organisation and unlock additional value for shareholders," he said.
"We will also seek to increase the local ownership of SAEC, consistent with our commitment to South Africa's economic transformation, and may ultimately list the business on the Johannesburg Stock Exchange." Shares SAEC business would be sold to black business.
Asked in a conference call whether South32 would be prepared to hold a minority stake in the business, Kerr said: "We do believe in building partnerships but we would not keep a minority stake for a long period of time". He added that investor concerns regarding the impact of coal on climate control was another feature of the decision to sell down its stake.
South32 said in a statement to the Johannesburg Stock Exchange that SAEC required ongoing investment to sustain production and meet its take or pay rail domestic supply obligations. The restructure was aimed at "sustainably" improving its financial performance. It would have "tailored functional support, systems and governance processes", the company said.
South32 is following in the footsteps of Anglo American which announced plans in April to sell its domestic coal mines to a black consortium, Seriti Resources, for R2.3bn. The transaction, which requires the transfer of the coal sales agreements between Anglo and Eskom for the New Denmark, Kriel and New Vaal mines, has not yet been completed.
Once SAEC had been established as a stand-alone business, a process would begin to broaden its ownership, said South32. "This will present opportunities for Broad-Based Black Economic Empowerment entities, employees and communities, and could lead to a listing of SAEC on the Johannesburg Stock Exchange," it said.
Commenting on the approval of the Klipspruit project – which has not been an easy process and is now clearly linked to the spin-off proposal – Kerr said that the mine would now continue for another 20 years and ensure employment for 740 people. Some 4,000 jobs would be created during construction.
"The investment is expected to generate an internal rate of return on investment of more than 20% by unlocking 616 million tonnes of resource at the Klipspruit South and Weltevreden deposits, and fulfilling around half of our current rail obligations with Transnet," he said.
BEE DEMANDS, ESKOM
Earlier this year, Kerr told Business Day, a newspaper, that operating in South Africa was "uninspiring" and "depressing" owing to regulatory uncertainty.
One of the regulations that has perplexed foreign investors is a demand by Eskom that new supplies of coal to it ought to be 51% controlled by black business. It's unclear whether this 'regulation' can be applied given that the Mining Charter sets down an empowerment ownership target of 26% – a number that mines minister, Mosebenzi Zwane, wants to increase to 30% in terms of his highly disputed Mining Charter redraft, currently suspended pending a High Court hearing.
In addition, South32's Wolvekrans mine in Mpumalanga province has a contract with Eskom that is highly uncompetitive. In a conference call following its annual general meeting last week, Mike Fraser, head of South32's Southern Africa business, said: "The domestic said of the contract [at Wolvekrans] has always been tough for us. We don't get a good price".
Asked by Miningmx for his perspective on South African exposure, Kerr commented the group was not "risk-off". He added the group had spent "a lot" in South Africa. It was interested in developing other coal resources in the country such as the Pegasus and Leandra prospects, also in Mpumalanga province.
It's clear now, however, that South32 does not want 100% exposure to the country's coal and requires a shorter term return from the Klipspruit investment via a sale of shares to a black business partner and to the market in general through the Johannesburg listing.