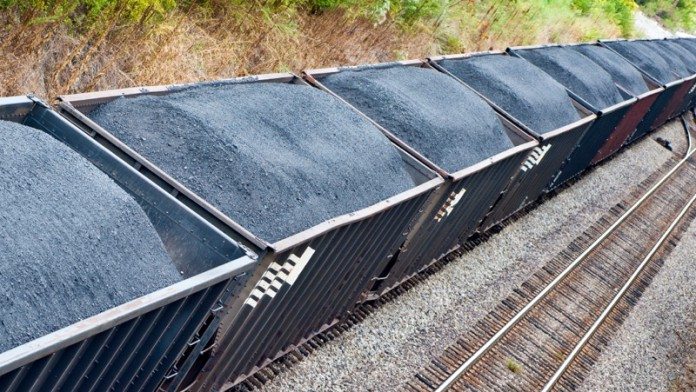 EXXARO Resources, the Johannesburg-listed coal producer, is to add its name to suitors interested in buying the Gupta family's Tegeta Resources coal assets, currently in business rescue – a development that would potentially see the group compete against its former CEO, Sipho Nkosi who is also interested in the assets.
Commenting during a presentation of the group's full year results, which demonstrated much improved trading conditions for thermal coal, Exxaro CEO, Mxolisi Ngojo said the company was interested in buying the export entitlement through Richards Bay Coal Terminal (RBCT) which is contained in Optimum Coal Mine.
Optimum Coal Mine has a 7.5% stake in RBCT which, based on the terminal's stated capacity of 81 million tonnes per year (Mtpa), is equal to just over 6Mtpa. Buying this would nearly double Exxaro's current direct access to the thermal coal export market. "We are absolutely interested in the export entitlement," said Mgojo in a conference call this morning. There had not been an approach to Tegeta's business practitioners, however.
Miningmx reported today that Sipho Nkosi is to join forces with Bernard Swanepoel in a new company called the Phakasmisa Consortium, which wants to bid for Optimum mine as well as Koornfontein and the RBCT entitlement. Nkosi was the CEO of Exxaro Resources for about eights years having been appointed in 2007 during the firm's formative years. The two men are also long-time business partners, and hold shares in Exxaro.
There is uncertainly, however, regarding how such a sale would be conducted. Tegeta Resources attempted to sell the RBCT entitlement to Vitol in 2016, but the move was eventually blocked by RBCT shareholders on the basis there were pre-emptive rights. Another argument is that Optimum Coal Mine and the entitlement are indivisible.
"It is possible to take the portion of entitlement without the other assets. It depends on what the other players are offering for the combined assets," said Mgojo. He alluded to the Optimum mine's rehabilitation liabilities which could be as high as R2bn. According to allegations, the rehabilitation fund was raided by the Gupta family. It's not known if the fund contains any money, or if the monies can be recovered through legal means.
Swanepoel said today regarding Phakamisa's proposed offer for the Tegeta coal assets that: "We are very comfortable to play and to win. This is an easily salvageable process." The two will be joined in competition for the assets by Mike Teke, CEO of Seriti Consortium, who told Miningmx last week it was also interested in Optimum Coal Mine.
The current three-part race for the coal assets underpins comments made by newly appointed South Africa mines minister, Gwede Mantashe, who told parliament's mineral resources committee yesterday that the Gupta mines would be in operation again.
OLD BOYS' REUNION
Commenting on the appointment of Mantashe, Mgojo declared himself "very pleased" with the development. He also lauded the fact Mantashe had pulled in Sandile Nogxina as his advisor on upcoming Mining Charter negotiations.
Nogxina was the director-general of the Department of Mineral Resources when the first Mining Charter was forged – which included Con Fauconnier as a key player. (Fauconnier was Exxaro Resources' first CEO before handing the reins of the company to Nkosi).
"We are very pleased with the recent appointment of Mantashe. With his experience and also that of his new advisor, Sandile Nogxina. Sandile was the previous DG and he was very instrumental in negotiations at the time of Mining Charter I," said Mgojo who was also appointed president of the Chamber of Mines in June last year.
There was alot of noise in Exxaro's 2017 financial year-end numbers owing to the cost of implementing a new black economic empowerment transaction, and the sale of a stake in Tronox, as well as Tronox's alkali business (from which Exxaro suffered a loss). Excluding these one-off, exceptional items, however, Exxaro reported attributable earnings per share for the year of 1,923 cents, an increase of 20% year-on-year.