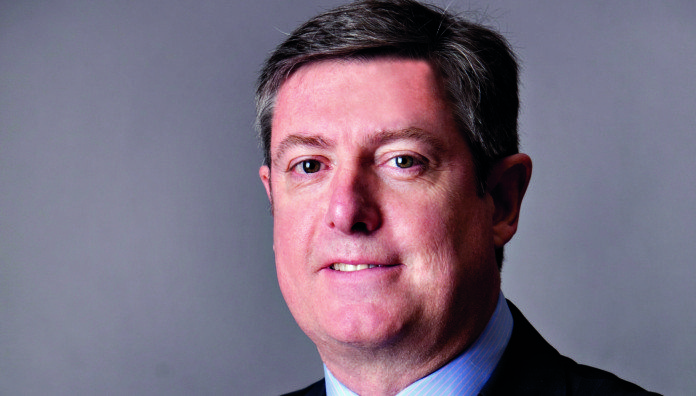 HE may once have sat at the other end of the negotiating table from former Zimbabwean president, Robert Mugabe, and dealt in platinum projects worth hundreds of millions in rands, but David Brown reckons taking the reins of the dinky R1.4bn MC Mining has made him a better CEO.
Not until you've done the sitting in the Department of Mineral Resources (DMR) waiting for an appointment do you really know what it takes to run a mining company, says Brown on the sidelines of the 121 Mining Conference at Cape Town's Waterfront Radisson Blu Hotel.
The idea of being holed up in a room in a Pretoria government building doesn't sound like fun, especially as we sit right now: less than 50 metres from the Cape coastline, the sun bouncing jubilantly off the sea. "It wasn't much fun," replies Brown.
"But it was necessary."
That's because Brown made it his mission at MC Mining to clear the company's legacy problems, of which there were many, including the job of permitting what was really valuable about the company – the development of the Makhado metallurgical coal project, tucked away in the farther reaches of South Africa's Limpopo province. So important is the project that it precipitated a company name change from Coal of Africa Limited or CoAL as it was known to MC (metallurgical coal) Mining. (There's no horsing about with fancy names in Brown's book).
Permitting a mining project in today's South Africa, especially coal of all minerals, is a long and arduous task. There are droves of environmental objections, not to mention a couple of property disputes slap bang where Makhado is to be built.
But there's a national relevance to building the mine there. It's the Limpopo province that has been targeted by President Cyril Ramaphosa for large-scale industrialisation in terms of an agreement with Chinese investors in July 2018. The plan is to build a new industrial hub, protected as a special export zone, with ferroalloys smelters and led by a 4,800MW coal-fired power station.
The area identified is close to Makhado as well as MC Mining's Greater Soutpansberg Project (GSP) and will need thermal coal – which Makhado will also produce – as fuel as well as metallurgical coal which is needed for the various furnaces and smelters planned for the region.
Right now, Brown says his interest is piqued by the suggestion of an industrial area there, but he's not actually developing a strategic blue print for the company on the expectation of any immediate development in the region. "We are just keeping it as potential," says Brown.
"Our GSP asset such as Mopane, is 20km away from the suggested site of the SEZ, and Makhado, is 18km away. But are these ideas driving marketing plans or our resource planning? I think the answer is 'no'.
"We think this has a five-year type window before it comes to fruition. I think it could work and would be a wonderful opportunity for the company, but the reality is that the government and its bureaucracy is in charge of making it happen. We'll get excited about this when the bureaucracy around it is completed," he said.
There are shorter term goals for MC Mining to achieve.
One is getting the most out of Uitkomst, a coal mine in KwaZulu-Natal province, which MC Mining bought from Pan African Resources in 2017. Whilst the mine is cash flow positive, Brown concedes that there have been slippages since taking it over.
"Uitkomst has had some integration difficulties over the last few months. But next quarter we hope to get it up and running. We've had to spend money to catch up but there are two areas of expansion we're also looking at: one is to make a new, third product stream out of discard by making plant modifications. We think we can get 400,000 tonnes run of mine (ROM) per month.
"The other is developing a north adit which could add 100,000 to 150,000 tonnes a month ROM coal. We are doing the drilling now but it could take 12 to 18 months to get that coal out at a cost of say, R20m to R50m. That's quite a wide quote in capital but it depends on the type of box cut we decide upon," he said.
TREADING WATER
Prior to buying Uitkomst, MC Mining was treading water whilst it cleaned out roughly ten years of previous misadventures. The company, founded with Australian capital where it is still primarily listed, aimed at establishing a foothold in the Mpumalanga province colleries, building a warchest and using it to fund grander projects, such as Chapudi (now GSP), bought from Rio Tinto in 2010 for $75m
Unfortunately, the Mpumalanga mines ran into the mineral price correction of 2012. The Australian team was replaced by John Wallington, the respected coal mining executive who once led Anglo American's colleries. But MC Mining still struggled to generate sufficient cash. In fact, much of Wallington's efforts were spent trying to get another project, Vele, off the ground in an effort to diversify risk from the Mpumalanga colleries. Vele signed a rail agreement to send its coal to Maputo but sustainably producing fuel from the operation was hobbled by environmentalists.
Wallington once quipped Vele had become the most famous coal mine in the world, and for a while, it occupied the newspaper column centimetres owing to its positioning – a stone's throw from the Mapungubwe reserve, a UNESCO protected area. At one point, so tied up in red tape, Vele stopped producing for most of a year.
Enter Brown, first as non-executive chairman in 2012 having not long resigned as CEO of Impala Platinum. He was there first to assist, to bring large institutional know-how to a fledgling team (Wallington had left). In the end, he took the job himself. Brown's approach was to tidy up the company, stabilise the balance sheet, and set Makhado on the path to development.
First off, Vele was shut. Then came the job of untangling the company from its less than economic freight agreement on the Maputo line. Next came the sale of some of the Mpumalanga assets, largely because Rio Tinto hadn't been properly paid for the Chapudi assets. It was a mess. It was also a testament to the time needed that the last of MC Mining's Mpumalanga colleries was only sold in the backend of last year – a process that took the best part of four years.
IMPLATS
Brown came to prominence in the business world at Implats from 1999 where he was financial director and then CFO. Having been born in Llanduno – the original one in Wales, not Cape Town – he graduated from the University of Cape Town and completed his accounting articles at Ernst & Young. By 2006, however, he was CEO of the world's second largest platinum company.
In his first year in charge at Implats, the platinum price took a $50 dive to around $350 per ounce. It was the first of many oscillations in pricing for which the platinum price became infamous. Still whilst at Implats, the platinum price was at $500/oz before losing ground. Several years after Brown left Implats, in 2006, the price was again stratospheric, through $2,000/oz.
These were heady days, even if the platinum price was proving unplayable. Platinum was the new wonder metal possessing both the massive industrial application that gold didn't have, and prized heavily in China as the must-have jewellery item. If you were cool, you bought a platinum wedding band.
At one point, Brown courted Tokyo Sexwale's Mvelaphanda Resources and another platinum company, Northam Platinum, in a three-way takeover deal worth R150bn. Had it been compleed, it would have become the third largest ever merger and acquisition transaction in South Africa. It didn't, in the end, pan out.
Compared to that, Brown is today dealing in smarties – he is looking to raise the $120m or R1.7bn MC Mining needs to build Makhado. But in terms of its impact on the lives of ordinary South Africans living in Limpopo province, however, the deal is highly significant.
Quite how the money is raised is not yet finalised; in fact, Brown is giving mind to reducing the upfront funding burden to about $40m (R560m) well down on Makhado's current project scope, known as 'Makhado Lite', itself a reduction on the $400m or R5.6bn to $500m (R7bn) prospect first envisaged by MC Mining in its days as CoAL.
"We are now looking at a phased approach for Makhado although it's still a significant amount of money for us," says Brown.
The $40m would also include a debt repayment to the Industrial Development Corporation (IDC), the state-owned development bank, which falls due in March 2020. "We are looking at phased approaches and we are undertaking work present that would mean a much smaller amount to raise.
"We would look at a 50:50 debt to equity type of split, but this is all in concept at this stage," he added.
Aside from the funding requirement, there have been some significant advances in developing Makhado. For instance, in October, MC Mining said it had secured an offtake agreement for about half of its planned 0.8 million tonnes a year in hard coking coal production from Makhado. Huadong Coal Trading Center Company, a Chinese state-owned entity, would buy 0.4 million tonnes of the material annually at index-related prices with first coal due 18 months after mine construction, currently scheduled to start by mid-2020. Makhado is also scoped to produce about one million tonnes a year of thermal coal which most probably be exported.
Although an equity raise is not first prize for many small to mid-cap mining companies, the exercise may prove cheaper for MC Mining than six months ago following a re-rating in the company's shares.
Brown said the improvement in the share price was initially down to a property agreement with two landowners for real estate crucial to the development of Makhado's mine and processing plant.
However, there had also been an increase in interest generally regarding the company's business activities. "I think people suddenly saw that Makhado could come to fruition. There was a massive resurgence following the property deal. The realisation is that this is not just on the drawing board. It's been a long time coming," he said.
"We are also slowing regaining some credibility with institutions, especially banks. I get bankers phoning me now which never happened in the past. It is encouraging because we are finally being recognised. Once we are successful with Makhado then we are away," he said of the share price prospects.