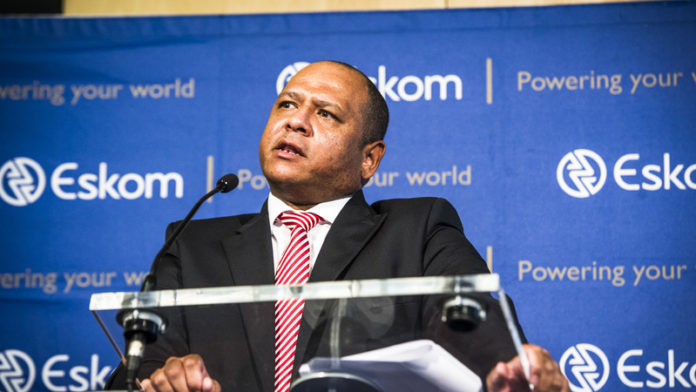 THE South African government is taking steps to bring about fundamental change in power utility Eskom, including setting up a chief restructuring office and drawing up an Eskom Paper which will be circulated for comment "in the next month or so", minister of public enterprises Pravin Gordhan said on Tuesday.
Last week, the government tabled a bill providing R59bn of support over two years for the stricken entity. This is in addition to the R230bn over ten years announced earlier this year. This support will enable Eskom to continue as a going concern for the next 12-18 months, Eskom's CFO Calib Cassim said.
The massive loans from government, coming on top of tariff increases of 325% between 2008 and 2018, has raised widespread concern about the apparently endless support needed to prop up an entity that is vital to the South African economy. The latest support measures prompted credit ratings agency Fitch to revise its outlook on the sovereign rating to negative.
Gordhan said the chief restructuring office would be headed by Freeman Nomvalo, seconded from his post as CEO of the SA Institute of Chartered Accountants. Nomvalo was South Africa's accountant general from 2004 to 2013. The office will address Eskom's debt and advise on the best way to deal with it in a restructured entity.
The Eskom Paper, which will set out the trajectory for restructuring the utility into three separate entities (generation, transmission and distribution), was currently being drafted, Gordhan said.
Gordhan was addressing media and bankers on the utility's financial results for the year to March, which painted a picture of declining sales and rising costs, particularly debt service costs. Eskom posted a bottom-line loss of R20.7bn in 2018/19 compared with the 2017/18 loss of R2.3bn.
Outgoing CEO Phakamani Hadebe, who will be replaced by chairman Jabu Mabuza in an acting capacity for three months, said the basic problem was that Eskom was not allowed by the National Energy Regulator of SA (Nersa) to charge cost-reflective tariffs. It should be charging 120c/kilowatt hour for electricity but Nersa currently allowed only 90c/kWh.
Eskom's debt is currently R441bn, up from R389bn in 2017/18, on which finance costs were 19% higher than last year at R28bn. With capital repayments, total debt service costs were R69bn (2018: R44bn). Cash flow from operations, at R33bn, is not currently enough to service debt. Eskom's gearing is 76%, up from 72% last year, which is unsustainable.
Cassim warned that in 2020, as Medupi and Kusile are completed and finance costs are taken through the income statement, combined with R28bn of capital repayments due, debt service commitments will escalate to R84bn.
For 2020 Eskom needs to raise R46.2bn in debt, of which R26.9bn or 58% has been secured. Government support will provide the other R46bn required to keep the entity afloat.
Hadebe said management committed to cut costs by R10bn last year and achieved R9.9bn, but overall costs escalated partly as a result of a wage settlement and partly from the use of open-cycle gas turbines (OCGTs) to avoid loadshedding. It has committed to cut costs by R33bn by 2023/4.
Cassim said in 2020 Eskom's sales volumes are expected to continue declining. It will work on collecting arrear debt but it has little room to manoeuvre on its coal contracts. Whether it needs to use the costly diesel-fired OCGTs will depend on the performance of the power stations.
Cassim said cost savings alone will not restore Eskom to financial health and shareholder support is a short-term option. The only possible long-term solution was cost-reflective tariffs, which should reflect both efficient costs but also an appropriate return on the asset base.
"The price of electricity has to be sustainable, and we need to agree with government on targeted sectors that require support. We know it is urgent to address our financial sustainability, based on detailed planning," Cassim said.