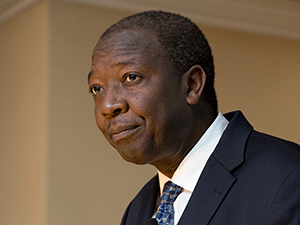 [miningmx.com] – "YOU should speak to Mark Cutifani". That was Kumba Iron Ore CEO, Norman Mbazima's, response to an analyst who queried at Tuesday's results presentation in Johannesburg whether Kumba was "… going to be thrown out of Anglo American" as part of the group"s drastic restructuring programme.
Mbazima commented: "The issue is one that Mark Cutifani addressed on December 8 and will be addressing again on February 16, so I think we should wait to see if there is any throwing out or not as the case may be.
"Our job as management is to make sure that Kumba positions itself to be able to start delivering value to all its stakeholders. We hope to start doing so from 2016 on the plans that I have mentioned to you," he said.
During his investor's day presentation on December 8, Cutifani revealed that Anglo intended selling off some 60% of its asset base and noted that the Minas Rio iron ore project in Brazil was not included in the list of 'tier one' assets that the group intended keeping.
Since those bombshells were dropped, some analysts as well as some mining industry participants, have increasingly come to the conclusion that Anglo intends getting out of iron ore and, as part of that decision, Kumba is also going to be sold.
Miningmx first raised this possibility on February 3 and one mining industry source has commented subsequently that: "If you read between the lines of what Cutifani said on December 8 it's clear that Kumba is highly likely to be sold. The real questions are when and how".
If so, Anglo would be selling Kumba at the bottom of the market which is something that the mining majors are loathe to do.
In the case of Kumba the buyer could perhaps get a bargain depending on how the iron ore market subsequently plays out and judging by how management is successfully restructuring Kumba to deal with current grim business conditions.
Mbazima laid out a series of measures taken at Kumba over the past year which have already chopped net debt by 42%; reduced controllable costs by R4bn and brought the breakeven cost down to $41/t against a target of $45/t set in the first half of 2015.
There's more to come according to Mbazima who said Kumba management was targeting a further reduction of up to $10/t in "controllable costs" during 2016.
He said the overall target was for a drop in "total cash breakeven costs" to below $40/t, but the actual level achieved would depend on some factors outside of Kumba's control such as freight rates, lump premium paid by customers, oil price and currency fluctuations.
He pointed out these "uncontrollable" factors could have a significant impact on Kumba's final cash break-even cost calculation and said he believed the group "s break-even cost could drop to as low as $32/t "if everything goes well".
"We hope that these (uncontrollable factors) will be favourable in 2016, but we cannot base our business on this being the case. That is why we have taken the tough and painful decisions required to adapt our operations to this environment," he said.