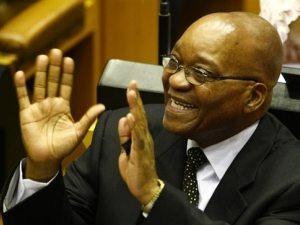 [miningmx.com] – LIKE his mines minister earlier this week, President Jacob Zuma missed an opportunity to bring policy certainty to the mining sector.
In his ninth state of the nation address, Zuma said "he trusted" that Parliament would process the Mineral and Petroleum Resources Development Amendment Act (MPRDA) "expeditiously" without elaborating on where it currently is in the process.
"We have heard the appeals for policy certainty in the mining sector [and] we await parliament to conclude the processing," he said.
Mines minister Mosebenzi Zwane made similar vague statements about he bill when he addressed an audience at the Mining Indaba conference earlier this week.
"I assure you that the government . has prioritised the processing and finalisation of the MPRDA amendment bill as a matter of urgency in order to entrench the necessary certainty," Zwane said at the time.
Zuma in his speech appealed to mining companies that retrenchments should not be "the first resort' when they encounter financial difficulties, but to rather look at ways to save jobs.
NUCLEAR POWER
Notwithstanding the fact that cabinet approved a controversial nuclear programme last year, Zuma gave the assurance that South Africa would only procure nuclear energy "on a scale and pace that the country can afford".
This comes after both former finance minister Nhlanhla Nene and the incumbent Pravin Gordhan expressed doubt over the affordability of a nuclear build programme.
Analysts and economists estimate that such a programme could cost South Africa between R800bn and R1.6 trillion.
ECONOMIC GROWTH
Zuma admitted that South Africa won't reach its growth target of 5% by 2019 – a figure that was mooted in the National Development Plan that would enable South Africa to make inroads in unemployment, inequality and poverty.
"Given the economic conditions . it is clear that we will not achieve that growth target at the time we had hoped to achieve it,' Zuma said.
He attributed the low economic growth by and large to "muted global growth', as well as the commodities slump. "The prices of gold, platinum, coal and other minerals we sell to the rest of the world have dropped significantly and continue to be low.'
He also acknowledged the very real risk that South Africa could lose its investment grade status, but said it could be countered if we continue to market the country as a preferred destination for investments.
"This requires a common narrative from all of us as business, labour and government. If there are any disagreements or problems between us, we should solve them before they escalate. This is necessary for the common good of our country.'