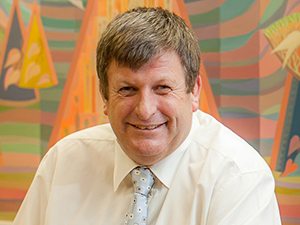 [miningmx.com] – HARMONY Gold lifted the veil on its re-scoped Golpu project in Papua New Guinea saying the first phase of the joint venture would cost $2.6bn to build and would produce 500 000 gold equivalent ounces per year on an attributable basis during peak production.
The scale of the project is enormous, however, and will raise questions once again about how Harmony will be able to fund the development.
For instance, Golpu carries a development cost of R39.4bn in local currency on a 100% basis with Harmony's funding share more than the company is currently valued in Johannesburg, even after its 400%-plus share gain of the last three months. Harmony's joint venture partner is Australian firm Newcrest Mining.
Nonetheless, Harmony intends to develop the asset despite queries earlier this month that it should, instead, sell the operation and focus on its South African assets. "Golpu is part of Harmony's future and will create value for our shareholders in the long term," said Peter Steenkamp, Harmony CEO, in a statement.
"The Golpu porphyry is a world-class resource due to its size, high grades, long-life and low operating costs," he said. The first phase of the project would have an estimated 28 year life of mine.
Steenkamp said on February 4 that the funding of Golpu held no fears for his team. "I am confident Harmony will be able to fund it," he said at the time – a view supported by Harmony's CFO, Frank Abbott, who said the finance burden would be gradual in the first two to three years of development. Harmony said today Golpu was "amenable" to a staged development.
Harmony said the net present value of the first stage had been put at $1.1bn assuming a copper price of $3 per pound and a gold price of $1,200/oz. The internal rate of return was subsequently judged to be about 16%.
The stage 1 feasibility study successfully scoped the development of twin exploration access declines, with two proposed block caves designed to extract approximately 50% of the contained metal (gold and copper) of the Golpu reserve, estimated to be 5.5 million oz of gold and 2.4 million tonnes of copper on an attributable basis. It would take 90 months to build the project.
Harmony also published details of a prefeasibility study into a second phase development of the joint venture in which 50% of the remaining reserve would be extracted by a deeper block cave.
The common path mining and processing infrastructure of Stage 1 will be utilised in support of the development of Stage 2, the company said.
Harmony has struggled with the planning of the project over the years announcing in December 2014 that it would build a 320,000 oz gold project which would also produce peak annual copper of 150,000 tonnes a year, both to be reached in 2025.
A previous prefeasibility study into the project, released in 2012, called for a mine producing peak annual gold production of 560,000 oz and a peak copper production of 335,000t/year.
The total capital attached to the entire project in 2014 was $9.7bn compared to the $7.9bn of the first and second phase unveiled today.
The $6.4bn price tag consists of total first phase project life of capital of $4.2bn, including sustaining capital of $1.6bn, and second phase expansionary and sustaining capital of $2.2bn.