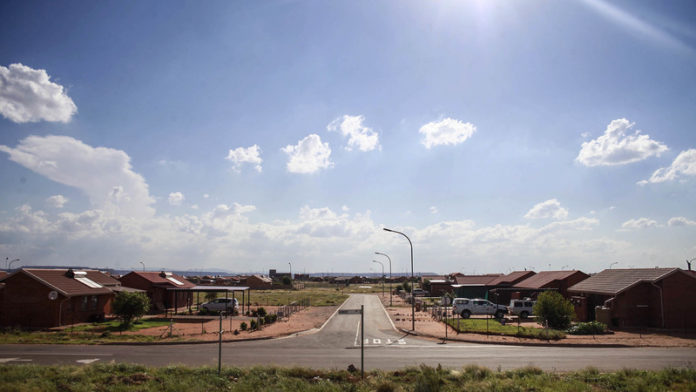 KUMBA Iron Ore showcased on Tuesday the new suburb it has built in South Africa's Northern Cape province to make way for the expansion of its Sishen Mine.
Over 500 households and 3,500 people have been moved from the small town of Dingleton to the larger community of Kathu 32 kilometres away. The cost to Kumba, an Anglo American unit, has been R3bn, and the project has been a dozen years in the making, underscoring the scale of the planning and capital commitments that characterise the industry.
For Kumba, which has recently cranked up the dividend flow to investors, the move will allow it to expand the life of Sishen from 14 to over 20 years, potentially adding billions of dollars to future revenue. Iron ore is one of the key commodities in the long-range plans of parent Anglo, which has also been at pains to underline its confidence in South Africa.
For the former residents of Dingleton, the move means new homes in the new suburb of Siyathemba, set among camel thorn trees in the arid Northern Cape landscape. Improved infrastructure includes a police station, primary school, seven new churches and a youth centre that was opened on Tuesday by Kumba CEO, Themba Mkhwanazi.
"We have come a long way and have been through a lot together … We see our neighbouring communities as our partners and believe that it is important to nurture our partnership," Mkhwanazi said.
Mkhwanazi earlier told journalists that the move had been scrutinised by human rights lawyers and NGOs who did not subsequently pursue the matter as compensation had been "fair and generous", meeting United Nations and other standards for the uprooting of entire communities.
Ten households have remained behind in the soon-to-be ghost town of Dingleton, trying to negotiate a higher settlement, but it is all clearly a far cry from the forced removals of the apartheid era.
Colin Visagie, who was a renter in Dingleton and moved to a flat in Siyathemba, did demolition work as a contractor in his former town – tearing down houses that had been vacated. "There is almost nothing left there now, most of the buildings have been demolished," he said.
In Siyathemba, he has come full circle, contracting as a landscaper and occasional builder and "helping to build this place," he said