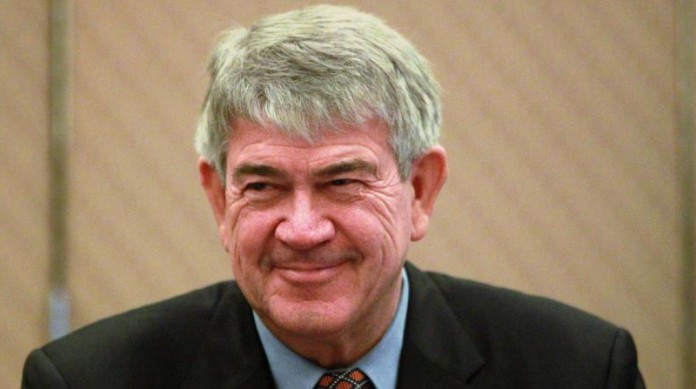 BRIAN Gilbertson, the revered South African mining executive, has been ousted from the board and chairmanship of Jupiter Mines following a shareholder revolt over executive pay.
At a general ("spill") meeting today, approximately 78% of shareholders voted against Gilbertson's re-election to the board. They also voted in favour of a resolution to remove Jupiter Mines CEO Priyank Thapliyal by a margin of 74% to 26% against.
An interim CEO would now be appointed in an effort to take the company forward amid a massive share price underperformance, said a shareholder who attended the meeting.
Jupiter Mines owns 49% of Tshipi Borwa, a manganese and iron ore mine located in South Africa's Northern Cape. The mine produced 3.4 million tons (Mt) of manganese ore last year against a 3.1Mt budget and is currently working through a feasibility study to take production to 4.5Mt annually.
According to a statement prior to the general meeting by AMCI, a 7.44% shareholder in Jupiter Mines, the company's shares have fallen to 25 Australian cents per share from 40c/share as of September 3 compared to a 43% appreciation in the S&P.ASX 300 Metals & Mining Index over the same period.
"The CEO has not taken proactive steps to address the diminishing value of the company or the underperforming share price, and has failed to pursue and successfully complete any material shareholder value creating opportunities since IPO," said AMCI director and Jupiter Mines board member Hans-Jürgen Mende.
Mende, who was reappointed to the Jupiter Mines board, added: "This may be due in part to the CEO's current remuneration structure which incentivises him to pay dividends rather than pursue long term value enhancing growth opportunities".
In questions posed by shareholders at the general meeting – triggered by a spill resolution at Jupiter Mines' annual general meeting held on July 30 – Gilbertson responded that the issue of executive had "… cropped up time to time in discussions with shareholders".
"Those [remuneration] arrangements were set out and entrenched from the outset," he said. "I really have not felt that they needed to be changed". About 95.64% of shareholders had voted against the remuneration report at the firm's AGM. In addition, about 93.4% of shareholders voted against the report in 2020.
According to the remuneration report, Thapliyal was to receive total pay of $1.38m including cash and salary fees of $751,166 in 2021 compared to total pay of $1.73m in 2020 and cash and salary fees of $766,744. Thapliyal owns 3.33% of Jupiter Mines while Gilbertson is a 1.27% shareholder.
Jupiter Mines' largest shareholder is Ntsimbintle Holdings, the South African firm which recently increased its stake in Jupiter Mines to 19.9%. Ntsimbintle Holdings has an effective interest in the underlying Tshipi mine of 47%.
Saki Macozoma, chairman of Ntsimbintle Holdings, said in a statement that he welcomed the outcome of the shareholder vote.
"At the shareholder level, the outcome of these resolutions indicated it was time for governance change and accountability," he said.
"We are fully engaged with our own long-term investment and in Jupiter Mines of the core asset, the Tshipi Mine … Our considered approach to all our investments is to ensure the mines in which we invest, and support in operation, can best reach their potential and extract a future premium," he said.