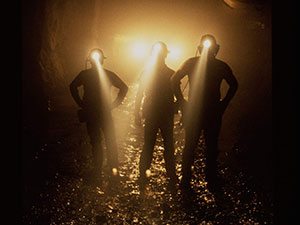 [miningmx.com] – HARMONY Gold said it had deployed rescue teams to its Kusasalethu mine on the West Rand to save 486 workers following the outbreak of a fire started during maintenance work on an air cooler.
The fire started on the mine's 75 level which is approximately 2,300 metres below surface at around 9.40am on February 22.
At the time of Harmony's announcement, some 287 of the 486 workers were confirmed to be safe, but still underground, in refuge bays.
The bays are supplied with fresh air, water and telephone communication, said Harmony Gold. Mine Rescue teams are working to assist those in refuge bays and to locate the other workers, the firm said.
A further six mine rescue teams have been called out and are expected to be deployed on arrival at the mine to assist with the rescue, said Harmony.
All operations at the mine, other than those related to the rescue, have been suspended, the company said.
In October, Harmony said it had shut its Kusasalethu mine for two weeks and sent employees on leave in a bid to combat the threat to safety posed by illegal mining on its premises.
The action, aimed primarily at protecting employees at the mine which has suffered three underground fires during October last year, also has the affect of denting Harmony's chances of clawing itself back to profitability.
An underground fire broke out at Kusasalethu on October 30, and although all employees were evacuated safely, Harmony CEO, Graham Briggs, said at the time that the risk of another fire harming employees was too great a risk to bear.
"The risk of yet another underground fire is a risk that we are not prepared to take and therefore we are reverting to this temporary mine closure', said Briggs. During the closure of the mine, Harmony would attempt to remove the illegal miners.