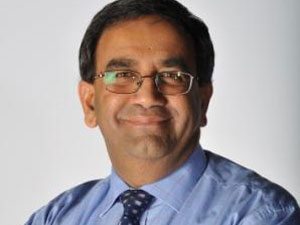 [miningmx.com] – AngloGold Ashanti CEO Srinivasan Venkatakrishnan has "upped the ante' for the forthcoming gold industry wage negotiations comparing the situation on South African gold mines to that faced by his group at the troubled Obuasi mine in Ghana.
AngloGold shut down Obuasi last year and is currently looking to restructure the mine radically or sell it off after a decade of bowing to pressure from the Ghanaian government to keep the mine going and from unions to grant above inflation pay increases.
His comments follow those of Harmony CEO Graham Briggs who, in his quarterly presentation on Friday, revealed the gold sector's strategy to negotiate an "economic and social compact' with the unions in this year's wage negotiations.
Answering questions after a presentation in Johannesburg of AngloGold's results for the March quarter Venkatakrishnan said the gold companies intended taking a "holistic' approach which would link the direct consequences of levels of pay increases to their impacts in reducing employment numbers and shortening the economic lives of the gold mines.
He commented, "what we cannot have is year-on-year discussions around wages without any economic consequences. That dialogue has to change. There is a trade-off between wage increases and employment numbers and we want to bring that into the dialogue up-front.
"In the past, increases were given and restructuring became a topic that followed on as a result of those increases. This time around we want to have the discussion at the same time rather than a follow-up discussion.'
He added, "this has been an issue for quite a while and what we have seen is a paradigm shift in terms of South African operating costs. With the benefit of hindsight this should have been done a few years ago but it's never too late to start. We intend to make a difference going forward this year.'
Drawing comparisons with Obuasi, Venkatakrishnan said, "Obuasi is a good example because it's a classic case where constant increases above inflation were given in US dollar terms and you have seen what has happened to the mine.
" South Africa is not in Obuasi territory yet and our intention in making this change is to ensure that it does not become another Obuasi. "
Asked how he rated the industry's chances of negotiating such a deal with the unions Venkatakrishnan replied, " It will not be an easy process but I am optimistic that sanity will prevail.'
Production from AngloGold's South African mines dropped 18% to 239,000oz in the March quarter (March quarter 2014 – 290,000oz) because of safety stoppages and interruptions at various mines while some 3,000oz of output was lost because of "electricity supply issues'.
By comparison, the group's international operations "knocked the ball out of the park' – according to Venkatakrishnan – as the group beat its overall operating production guidance for the quarter and reduced all-in sustaining costs by 7% year-on-year.
The group has maintained production guidance for its current 2015 financial year at between 0.96m and 1m ounces of gold produced at total cash costs of between $770/oz and $820/oz and all-in sustaining costs of between $1,000/oz and $1,050/oz.