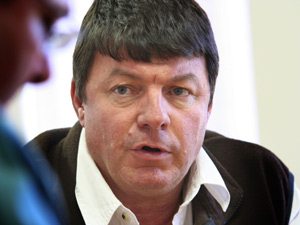 [miningmx.com] – The departures from Harmony of CEO Graham Briggs and COO Alwyn Pretorius were not linked and did not indicate anything untoward happening within the group according to Briggs.
Briggs also denied market speculation that his decision to leave resulted from a disagreement with chairman Patrice Motsepe over strategy on Harmony's future. Motsepe's African Rainbow Minerals (ARM) group is Harmony's black economic empowerment partner and the second largest shareholder in the gold miner.
Briggs announced his intention to retire on July 16 but said he would stay on until a replacement had been found for him. Pretorius announced his decision to leave on August 6.
Harmony has been through a torrid time because of the falling gold price with restructuring carried out on a number of its SA mines while the share price has collapsed more than 60% over the past 12 months to current levels around R12.85 at which the group has a market capitalisation of about R5.6 billion.
Interviewed after today's presentation of the group's results for the year to end June Briggs commented, "it's time for me to go and do something else. Relax a bit. Put my feet up. Not worry about Harmony so much.
"I am sure I will pop up somewhere in something smaller and cuter but I have not got any plans right now.'
Briggs added that, " Alwyn's decision to leave is completely unrelated. The job of operating officer is really tough, particularly at Harmony of late and it's a thankless task. He has a young daughter and decided he should spend more time with his family.'
Briggs said he had not appointed a new COO to replace Pretorius because he believed that should be done by the incoming CEO. "I don't want to appoint someone and set him up for failure because the new CEO then decides he wants someone else in that job,' he commented.
Regarding strategy Briggs commented, "In a nutshell our strategy going forward is to realise the value of Golpu in our share price and there has been very good alignment between management and the Board on where the company should be going
"We have some excellent assets in the company but you cannot see the value of Golpu in the share price.
"We will continue to reduce the risk in Golpu. The feasibility study on Stage One is due by the end of the year. We intend to spend money earlier rather than later on starting the decline shaft which will indicate to the market that we are serious about building this asset.
"We are looking at getting a mining licence for Golpu in 2017 but are currently negotiating a pre-mine development agreement with Government and hope to have that in place within the next three to four months.
"The aim is to ensure nothing changes between now and getting the mining licence and we are talking fiscal regime here more than anything else,' Briggs added.