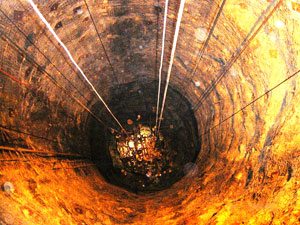 [miningmx.com] – SHARES in Harmony Gold were on the march again on Thursday gaining 8% and taking the company's market value to nearly R11bn, roughly three times its value at the beginning of December.
"Combined with a much higher than expected R/kg gold price, our margins are dramatically improved," said Henrika Ninham, investor relations manager for Harmony. At R581,130/kg, the rand gold price is 17% higher than on December 1.
As with Sibanye Gold, Harmony benefits from a weaker R/US dollar exchange rate, as the majority of its gold production is mine in South Africa. Shares in Sibanye were 4.5% higher whilst AngloGold Ashanti and Gold Fields gained 2% and 1.4% respectively.
However, Harmony is the most leveraged to rand/dollar exchange changes of its rivals as evidenced by its share price which is 184% higher since December compared to gains of 40% and 46% for Sibanye, Gold Fields and AngloGold Ashanti.
Applying today's rand gold price to Harmony's September quarter figures implies a 27% increase in the company's margin, said Ninham.
"Inflationary increases are already built into our plans and we will simply continue to control what we can -positioning each operation to be profitable by driving production and limiting cost increases," she said.
Harmony posted a R523m headline loss for the September quarter from a R191m profit in the previous period partly related to an exchange loss on dollar denominated debt. It returned free cash flow of R122m from an outflow of R171m in the previous quarter.
Former CEO, Graham Briggs, said Harmony would target paying down R2.7bn in net debt over the next two years – a goal made considerably easier by the improvement in rand revenues.
Citi analyst Johann Steyn believed a gold stocks run propelled by the weaker rand, could be sustained: "This time, weakness has been driven by broad concerns about emerging market growth, exacerbated by fears of an South African credit downgrade to sub-investment grade in 2016.
"This has seen the ZAR [rand] gold price increase 20% over a short period of time to R600,000 per kilogram – a level we believe can be sustained in 2016," said Citi's Steyn.
The improvement in Harmony's share price is also good news for African Rainbow Minerals (ARM), the diversified mining firm that billionaire Patrice Motsepe owns. ARM has a 14% stake in Harmony – an investment Motsepe has repeatedly declined to sell, even when shares in the firm collapsed 63% to R24/share in 2013.
Harmony was last trading at R27/share, its highest level since May 2015. The company is due to report its December quarter figures on February 4.