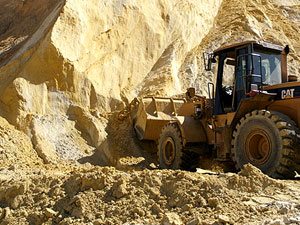 [miningmx.com] – SHARES in Pan African Resources gained 4% after the company said it had commissioned its R305m Barberton Tailings Retreatment Project (BTRP), a venture that will boost output at the Barberton operations 20% to 155,000 ounces a year.
South Africa's other gold stocks were relatively static – except for Sibanye Gold which was 3.5% higher – notwithstanding an overnight improvement in the gold price. Gold was last trading at $1,241.60 per ounce, $5 higher than its June 28 close in the US.
Ron Holding, interim CEO of Pan African Resources, said the commissioning of the BTRP boded well for the company's future. "It [the BTRP) demonstrates the potential for future success of our other organic growth projects at Barberton and Evander,' Holding said in a statement to the JSE today.
However, further pressure on the gold price during June would have had Holding sweating. He told Miningmx in May that the business case for Evander – which the company bought from Harmony Gold for R1.5bn – was safe provided there was a rand gold price of R400,000/kg.
Owing to gold price weakness, and a strengthening in the rand against the dollar from lows of R10 to R9.09, the rand gold price is about R360,000/kg.
Holding said today that further weakness in the gold price would certainly worry him, and not just for the company's Evander operations. "But we still make a bit of money at Evander. We have an action plan in place and we're certainly not going to panic," he said in a telephonic interview.
Said Holding in May: "When we bought the mine we did our sensitivities and worked on a gold price of R400,000/kg. The payback will be pushed back from when the gold price was R486,000/kg, but there are no concerns. We are still within our parameters". At the time, the rand gold price was about R424,000/kg.
Evander is a critical item for Pan African Resources because it doubles the company's overall gold production to 215,000 ounces a year.
Now, however, there are fears that were the current rand gold price to persist, Pan African Resources has a profit burner on its hands.
Clearly, Pan African Resources isn't the only company dwelling on the likely impact of a rand gold price at such low levels. Sibanye Gold's Beatrix mine, and some of the higher cost mines in AngloGold Ashanti and Harmony Gold, are under margin pressure owing to the current rand gold price.
Better news, however, is that Pan African Resources' BTRP is expected to retreat 100,000 tonnes of gold tailings a month at an average cash cost of $800/oz, although there is no consistency on how cash cost is calculated in the gold industry.
David Davis, an analyst for Standard Bank Group Securities said in a note in February that the weighted average notional cash expenditure (NCE) for the top ten global producers in 2011 was around $1,175/oz which included total cash costs of $600/oz; capital costs of $519/oz; and exploration costs of $56/oz. At the gold price of $1,572/oz achieved in 2011, the weighted average free cash flow margin was about 25% or $397/oz.