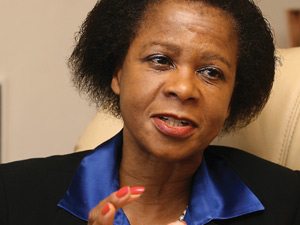 [miningmx.com] – GOLD Fields distanced itself from comments by former chairperson, Mamphela Ramphele, who said that the R54bn gold company agreed to government-nominated empowerment partners for its South Deep mine.
However, the group confirmed it was investigating its black economic empowerment (BEE) transactions.
"Gold Fields values and respects the services to the company of its former chair, Dr Mamphela Ramphele,' the company said in a statement today.
"During her tenure, Dr Ramphele strongly supported the board's decision to commission an independent investigation. Statements attributed in press reports yesterday (March 12) to Dr Ramphele represent her own personal views,' it said.
Gold Fields had retained the services of Paul, Weiss, Rifkind, Wharton & Garrison (Paul Weiss), a law firm, to undertake the investigation which is thought to extend to the 9% share in Gold Fields' South Deep mine held by Invictus Gold, an empowerment grouping with some 73 shareholders.
According to BDLive, citing Ramphele in an interview, the South African government rail-roaded an empowerment deal involving Invictus Gold by threatening to withhold the mining permit.
"The South African government had shoved the list of some of Invictus Gold's black economic empowerment shareholders down Gold Fields' throat, with an ultimatum that if the preferred names were not taken on board it would be denied a mining licence,' Ramphele told BDLive on March 12.
Of Invictus Gold's 73 shareholders, only 18 have been publicly named but they include a host of politically connected, and actively political individuals including Baleka Mbete, the former deputy president; Jerome Brauns SC who represented President Jacob Zuma during his rape trial, and the late Manto Tshabalala-Msimang.
The mandate of Paul Weiss is to review Gold Fields' internal controls and recommend necessary improvements, a tacit acknowledgment that the company could have put its due diligence in respect of government relations on a tighter rein.
"Gold Fields will report further on this matter upon the conclusion of the investigation which is being conducted with the full support of the board and senior management,' Gold Fields said.
Internally, Gold Fields doesn't believe that the government levered it into accepting certain individuals as empowerment partners; even Ramphele acknowledged in her interview with BDLive that the agreement predated her.
Nonetheless, statements attributed to Nick Holland, CEO of Gold Fields, suggest that he and his management team found negotiations regarding its empowerment deal in South Deep to be fraught with difficulties. He hinted at political interference.
Said Holland in an interview with Business Day last year: "Four years ago when we did the deal, the Department of Mineral Resources was in a very difficult situation.
"There were various people in senior positions who acted as if they had no accountability at all. In discussing the details around South Deep we got stuck: there were certain people who decided they had a lot of power and authority and they were going to wield it. We got into a position where we were delayed'.
Jingaphi Jakuja, spokesperson for the minerals resources department (DMR) said she hoped a statement would be issued by the mines minister, Susan Shabangu, today on the matter.
Gold Fields has acknowledged that it first wanted to conduct an employee share option scheme for the South Deep empowerment deal which was eventually valued at some R2.1bn.
And while 10.75% of South Deep shares was issued to the Thusano share trust, benefiting 47,100 employees, it was the Invictus structure that attracted attention, especially when it emerged last year that ex-convicts Gayton McKenzie and Kenny Kunene, as well as Brauns, had played an instrumental role in expediting the deal Holland said had "got stuck'.
Ramphele is now the head of Agang SA, an organisation she has described as "a political platform' and which is widely expected to become a political party that will contest next year's national elections in South Africa.