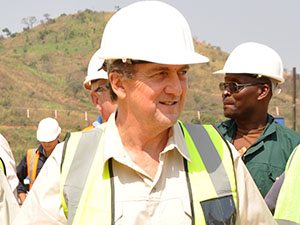 The outcome of the US presidential election could provide a further boost for gold but Randgold Resources (Randgold) will achieve a position of financial independence regarding future expansions by about the end of the year if gold stays at current levels around $1,300/oz.
That's according to CEO Mark Bristow who commented in Johannesburg on Monday that, "you have these two visionaries running for the Presidency. That's the best friend for gold that you can imagine.
" I don't want to interfere in US politics but I will point you to a little bit of recent history – the Brexit debate. The people in the street got pissed off being told what to do by a bunch of Belgian bureaucrats who have never created value on this planet – ever.
"Watch out – because the average Joe in the street has not benefited one bit from Washington. Bottom line is people are going to shit themselves and turn to gold if Trump wins."
Bristow said Randgold is using the current gold price boom to build up a $500m war chest which will make Randgold financially independent in that it will be able to build a major new mine without the need to issue equity or borrow funds.
He added once Randgold had the $500m in place then extra cash would be paid out through higher dividends.
Speaking at a briefing to financial media he commented, "$500m is what I need and after that I can take any capital demand and I can build any mine. Let's say we got another Kibali tomorrow – it's 18 months to do the bankable feasibility study; then another year to place the orders and then another two years to build the mine.
"By that stage I will have $2bn to $3bn in the bank because – at $1,300/oz – we are generating $600m to $700m in cash a year and that's after everything – dividends, capital, exploration costs and development costs.
"So, after $500m,  I don't need the extra money. With that capacity I can start the project and manage the cash flow into the future."
Turning to gold and gold stocks Bristow commented, " the story is bullish and the gold market is poised for a very long period of strong performance, particularly the gold price, but for the industry in the short term, however, I am not so sure."
Reason is the run-up of between 100% and 200% for gold equities over the past eight months on the back of the $300/oz rise in the gold price.
Bristow commented, "   I get the feeling we are at the top of a market. The only way this industry can continue to deliver in the next six months what it has delivered in the past eight months is to have another $300 rise in the gold price and that's well nigh impossible."