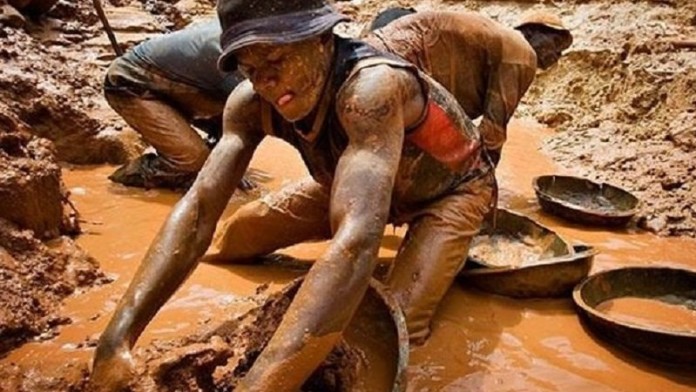 HARMONY Gold said it remained "very unclear" if the murder of employee Simphiwe Kubekha, a regional mine manager of its Tshepong and Phakisa mining operations near Welkom in South Africa's Free State province, was related to illegal mining.
"The police and Harmony security are continuing with the investigation," said Lauren Fourie, a spokeswoman for Harmony. "For the persons arrested, the case is postponed to the 16th of October for a formal bail application." Three men were arrested in connection with the murder earlier this month.
Kubekha was shot and killed on his way home on September 28. According to a Miningmx source, the speculation at the mine was that it was in retaliation after Kubekha attempted to root out illegal gold mining by so-called 'zama-zamas'.
"As you can understand the situation is still very sensitive, and security has been reinforced. We do not want to compromise the investigation in anyway and have refrained from a significant public response or campaign," said Fourie.
"It is still very unclear whether the murder of Simphiwe is related to illegal mining. Harmony condemns illegal mining in every way and there are various campaigns at the operations to prevent and stamp out illegal mining," she said.
Harmony may be pressed for more information on the murder when it reports its September quarter numbers – the first quarter of its 2018 financial year – which is scheduled for November 7.
The company said on October 12 that gold production from its South African underground operations will be 12% and 14% higher quarter-on-quarter. The improvement was put down to an increase in volumes and recovered grade.
Regarding its Papua New Guinea mine, Hidden Valley, Harmony said planned waste stripping of cutbacks 5 and 6 was "… ahead of schedule and will be completed towards the end of November 2017.
"Despite the impact on Hidden Valley's gold production, Harmony's total gold production increased by 3% to 5% quarter on quarter and the corresponding quarter year on year," it said.
Said Peter Steenkamp, CEO of Harmony Gold: "Focus on safety, operational excellence at our South African operations and delivery at Hidden Valley in the second half of FY18 will ensure that we remain on track to meet our production guidance".