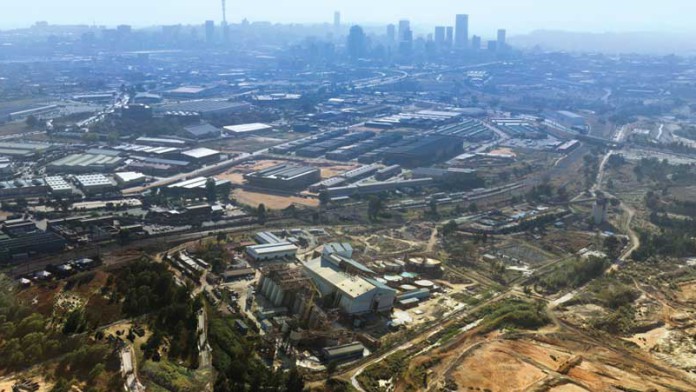 DRDGOLD today departed from a long-standing commitment not to hedge its gold production in acknowledgement that a transaction with Sibanye-Stillwater unveiled some 10 months ago had introduced more risk into the business.
The company, which extracts gold from mine dumps, would sell forward 50,000 ounces at no less than R565,000 per kilogram and no more than 609,000/kg. The amount is about a third of overall production based on 2018 output of 150,423 oz which represented a 10% year-on-year increase over production in its 2017 financial year.
DRDGold expected to produce between 148,000 to 154,000 oz in the current financial year from existing operations at a cash operating cost of R490,000 per kilogram – higher than the R458,866/kg achieved in the year under review.
The nub of the transaction announced with Sibanye-Stillwater is that it will swap a 38% stake in the business – with an option to extend to 50.01% control – in return for Sibanye-Stillwater's West Rand Retreatment Project (WRTRP) since renamed Far West Gold Recoveries (FWGR). The tailings are located west of Johannesburg at the surface assets of the Libanon and Driefontein mines.
As manager of the partnership, DRDGold will embark on the development of the assets in two phases. The first phase will include the upgrade of Sibanye-Stillwater's existing Driefontein 2 and 3 plants in order they process tailings from the high grade Driefontein 5 tailings storage facility. This must be completed in 24 months after deal closure and could see capacity doubled to 600,000 tonnes per month. Commissioning of the facility will take a year. Then there's a second phase which is much longer dated in execution.
Analysts have suggested that on the basis of Sibanye-Stillwater's plans for the Libanon and Driefontein tailings capital expenditure could top R4bn, but Niel Pretorius, CEO of DRDGold, has said his company foresaw a more conservative approach to development. The second phase might only be undertaken 12 years after the first, for instance.
However, risk there is.
"DRDGold wishes to reaffirm its long-term strategy to remain an unhedged gold producer and to keep borrowings to a minimum," it said in notes to its 2018 operating and financial results. "However, the development of the first phase of FWGR will necessitate medium term borrowings that will introduce some liquidity risk to the group," it added.
"To mitigate this liquidity risk, management traded a zero-cost collar to provide price protection against a possible decrease in the rand gold price while the borrowings will be in place," it said. DRDGold announced a R300m revolving credit facility with ABSA in order to begin the first phase of FWGR's development.
DRDGold said it expected first production in the first quarter of the calendar 2019 and that the project would "… materially contribute to our bottomline by the end of the second half of the financial year".
The recommencement of hedging – DRDGold announced in July 2002 that it had closed out its hedge book – stole the limelight from a very strong operating and financial performance for DRDGold for the 2018 financial year.
In addition to the higher production, which was achieved by dint of improved yields, the company took cash costs significantly down resulting in a 38% improvement in operating profit for the year of R355.2m. This was despite a softer rand gold price for the period. In dollar terms, the all-in sustaining cost increased 3% to $1,258/oz.