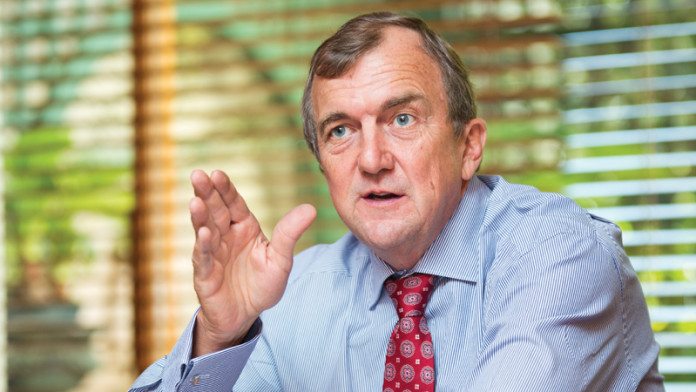 RANDGOLD Resources CEO, Mark Bristow, described himself as "an interested by-stander" in Acacia Mining's dispute with the Tanzanian government, but added that as an independent, standalone business, his company would be interested in investing in the East African country.
"Would we, as Randgold, go into Tanzania? Absolutely. Have we engaged with the government of Tanzania as Randgold? Yes, we have," he said in an interview today. His comments may provide an insight into his approach should a proposed $18.3bn merger between Randgold and Barrick proceed.
Barrick is the 64% majority shareholder in Acacia which is in dispute with the Tanzanian government. The government alleges Acacia owes it billions of dollars in unpaid tax – a claim Acacia denies. Nonetheless, the government has prevented Acacia from exporting mineral concentrates. Barrick executive chairman, John Thornton, has intervened in the matter by proposing Acacia pay the Tanzanian government $300m in a goodwill gesture.
"We need to sit down and talk with all parties," said Bristow of the dispute. "Right now, though, I am just an interested by-stander. There's still a lot of work to be done to get the transaction closed," he said of the merger.
Bristow also said that the merged entity would have an interest in growing its position in terms of world class assets in Africa, but buying out its partner AngloGold Ashanti in the Kibali gold mine, situated in the Democratic Republic of Congo, wasn't one of them. "Of all the assets that would not be up for sale, it would be Kibali, he said.
"We do want to grow our position in Africa in terms of world class assets but we have a good relationship with AngloGold Ashanti. It is one of the assets that is producing cash and I don't want to create any tension within the group," he said.
CONGO DISPUTE
The Congolese state-owned company, Société de Miniere de Kilo-Moto SA (SOMIKO), claimed last week that Randgold's merger with Barrick would introduce a new partner in Kibali and it would therefore "assert its rights", without providing details. Randgold responded that SOMIKO, which owns a 10% stake in Kibali, has no rights to disturb the merger. The balance of the shares in Kibali – a mine scoped to produce 700,000 ounces of gold a year – is shared equally between Randgold and AngloGold.
Thornton said last week that China would be encouraged to invest in the combined company's African assets. Bristow said he had a high degree of comfort with the strategy. "I've got to know the Chinese through our engagement in the Congo. They have a long-term approach with similar views to ours on delivering value.
"I did once question why Barrick gave away half of an eight million oz resource to the Chinese because eight million oz of gold is hard to find, but now I see the opportunity in partnering with them. There are many permutations of things we could do," he said of joint venturing with Chinese investors in Africa. In April 2017, Chinese firm Shandong paid $960m and formed a 50/50 joint venture in Barrick's Veladero gold mine in Argentina. "It made strategic sense," said Bristow of that transaction.
Acacia said earlier this year it was consulting with potential Chinese investors to joint venture with the company in Tanzania.