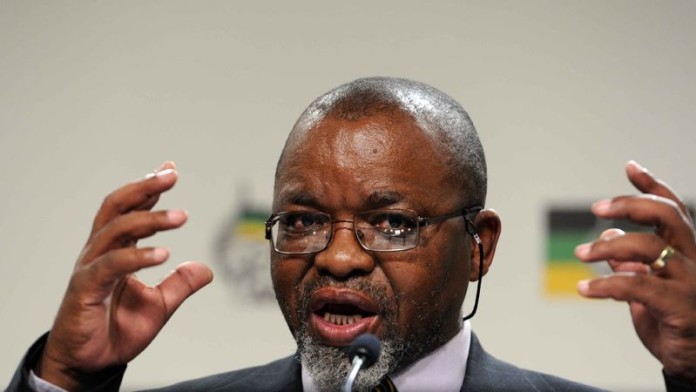 SOUTH African mines minister, Gwede Mantashe, expressed his dissatisfaction with the manner in which Gold Fields had handled the proposed retrenchment of 1,520 employees, including contractors, at its struggling South Deep mine, west of Johannesburg.
Citing Mantashe, the Department of Mineral Resources (DMR) said in statement on the evening of November 26 that Gold Fields had adopted a "tick box" approach to the process of restructuring the mine, the first major job reduction undertaken there, says the firm.
"We don't believe the company is acting in good faith," said Mantashe in the statement. "They [Gold Fields] have merely engaged in a tick-box exercise for compliance purposes. This is a disturbing approach, and we remain unhappy with the way the process has unfolded thus far," he said.
Mantashe's comments come after a meeting in the evening between himself and Gold Fields executives in an effort to resolve a strike that has been called by a small group of some 150 representatives from the National Union of Mineworkers (NUM).
Gold Fields did not issue a statement on the meeting.
In the early days of the strike, which began on November 2, there was mine violence and employees wanting to work were barred from the mine premises. Gold Fields won a court interdict to protect employees who wanted to work, but it was not enforced as the company wants to steer clear of exacerbating mine tension.
An employee was shot dead and others injured on the first night of a strike at Beatrix, a mine owned by Sibanye-Stillwater on November 21. The company said on Sunday that the situation had eased but it remained tense. It promised to provide an operational update.
The DMR said it had begun "engagements" with Gold Fields in August to find alternatives to the company's proposed retrenchment plan. It said the strike was "… a matter of great concern" as it had an adverse impact on the economy.
"We continue to urge employers in the sector to be responsible, as we are dealing with people's lives when we talk of possible retrenchments, and not mere numbers," said Mantashe, who is former general-secretary of the NUM.
Gold Fields is adamant that it has followed the correct procedures ahead of commencing retrenchments which it said was critical in order to preserve the remaining 3,000 people employed at the mine. At the time of its decision to restructure South Deep, the mine had leaked R756m in cash following a R295m outflow in the second quarter.