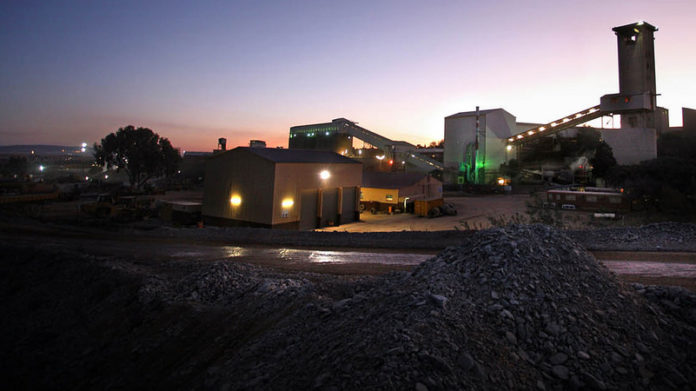 GOLD production from Sibanye-Stillwater's strike-hit South African mines would come in slightly below guidance at some 1.1 million ounces for its 2018 financial year, said the firm which added, however, that violence during seven-week strike continued to flare.
The Association of Mineworkers & Construction Union (AMCU) called members out on strike at Sibanye-Stillwater's gold mines on November 21 as it decided not to accept a three-year wage deal that had been previously agreed to with other unions including Solidarity and the National Union of Mineworkers (NUM).
Commenting in a strategic update today, Sibanye-Stillwater said strike-related violence continued this year. An employee had been killed on the first night of the strike last year while houses were being burned this year. The company said there had been "… a moderation of violence and intimidation but "violent episodes, including burning of houses occupied by non-AMCU members in Blybank near Carletonville, have resumed in 2019".
The hope now for Sibanye-Stillwater is proving that most employees at its gold mines fall under the wage agreement. This follows an assertion by the company that the unions that agreed to the wage deal represent more than half of total employed. In terms of South Africa's Labour Law, this entitles Sibanye-Stillwater to extend the wage agreement to AMCU – but AMCU disputes the calculation on union membership.
The Commission for Conciliation, Mediation and Arbitration (CCMA) is working through the numbers in order to verify Sibanye-Stillwater's view, the company said. In the meantime, the gold mines had found ways around the production interruptions by deploying miners "to specific production areas and minimising overhead costs by shutting down services to areas which are not operational".
"As per convention, employees who do not report for work are not paid, with wages generally accounting for around 50% of operating costs at the deep level gold mines," the company said in its update.
PGM SAVES THE DAY
Sibanye-Stillwater twice guided gold production expectations last year. It first said gold output would be between 1.17 to 1.21 million oz before guiding down to 1.13 to 1.16 million oz. This was following a spate of accidents last year, including an unforeseen seimisc incident, which cast the company in an uncomplimentary light.
As of mid-2018, 21 miners had lost their lives on Sibanye-Stillwater operations which led some analysts to question whether the company qualified as an investment vehicle at all. Today, however, Sibanye-Stillwater said it had gone four million accident-free shifts in an apparent 'return to normality'.
The other good news for the company was the relative health of the company's platinum group metal (PGM) assets. Thanks to the dollar price improvements in palladium and rhodium, the basket PGM price in rands increased 19% in 2018 to more than R15,700/oz which "… significantly enhanc[ed] revenue," said Sibanye-Stillwater.
Production from its South African PGM operations would be 1.17 million oz which was ahead of published annual guidance and costs at the bottom end of guidance.
In terms of Stillwater, the US mine which produces palladium and platinum (2E PGM), production would be 590,000 oz for the year, in line with guidance, said Sibanye-Stillwater.
"The current 2E PGM basket price of $1,190/oz is 19% higher than the average 2018 2E PGM basket price of $996/oz. Higher basket prices, together with increased production due to initiation of mining operations in a second stope block at Blitz in October 2018, is expected to positively impact revenue at the US PGM operations," the company said.
All in all, PGM production comprised 85% of group earnings before interest, tax, depreciation and amortisation (EBITDA) in the third quarter compared to 74% of total EBITDA in the first six months of the year.
"The strategic benefits of the group's commodity and geographic diversification are clearly evident, with operational disruptions in the gold division offset by rising PGM prices and the solid operational performance of the PGM operations," said Sibanye-Stillwater.