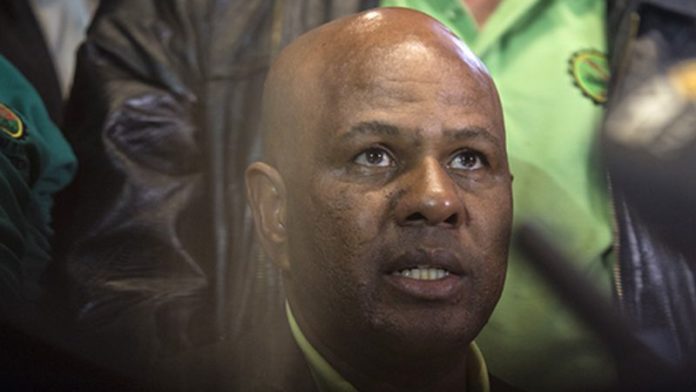 ASSOCIATION of Mineworkers and Construction Union (AMCU) president, Joseph Mathunjwa, lived up to his billing as "a s**t-stirrer of note" by chairman, Bernard Swanepoel, when he launched an all-out attack on Sibanye-Stillwater CEO, Neal Froneman in Johannesburg today.
Introducing Mathunjwa to the Platinum Group Metals Industry Day investment conference Swanepoel commented: "Joseph's official CV should say s**t-stirrer of note; kicked out of the National Union of Mineworkers by (current mines minister) Gwede Mantashe".
"When you get kicked by Gwede out of a bunch of s**t-stirrers you must be a world-class s**t-stirrer," he said.
Mathunjwa began by stating that "… it would be wrong to reduce these challenges (the four-month long strike by AMCU on Sibanye-Stillwater's gold mine) to myself and Froneman. That's not the case."
But he then compared Froneman to the imperialist, Cecil John Rhodes, commenting: "Neal Froneman and his Mafia are the last battalion of exploiters. If you look where they are coming from it's Cecil John Rhodes and Charles Rudd from Gold Fields."
(Rudd famously negotiated the Rudd Concession on mineral exploration from Matabele chief Lobengula in 1888 which Rhodes subsequently used to justify an invasion of the country which was subsequently named after him as Rhodesia but became  Zimbabwe  in 1980.)
Mathunjwa continued: "When they unbundled at Gold Fields, Froneman came up with Sibanye. He never left the learnings of Cecil Rhodes. He was groomed and brought up under those circumstances."
He then broadened his attack to include the current ANC government under the leadership of Cyril Ramaphosa and the Minerals Council which he claimed was no different from the former Chamber of Mines. "The culture has not changed since 1902," he said.
CONSPIRACY
The AMCU strike on Sibanye-Stillwater's gold mines could have already been resolved except for the fact that "… the State – Cyril Ramaphosa's government – is helping Sibanye to break the AMCU strike. We have evidence of this. They have this toxic relationship as if they have never learnt anything from Marikana".
Mathunjwa added: "Froneman and the State have this toxic relation where the Nyalas and Casspirs (types of armoured personnel carriers) of the State are serviced by Froneman in his workshop. They have an unholy alliance."
Mathunjwa also attacked the current South African democracy and South African business in general claiming that "… nothing had changed in the country since 1994", in particular the situation facing mineworkers. "Corruption, when it is done by the white man, is not corruption: it's a business transaction. When it's done by the black man, then it's corruption."
Questioned by Swanepoel over whether he had political ambitions, Mathunjwa replied: "When the former State President Jacob Zuma was removed he was not removed by the ANC, he was removed by business. We see the government embracing openly business at the expense of its own people. You cannot deny this. We saw it at Marikana in the Lonmin massacre and we have seen it recently at Sibanye."
Asked by Swanepoel whether that meant AMCU would not be supporting the ANC in the upcoming elections, Mathujwa replied that AMCU had "not made a call" on which political party it might support, but that call might be made on May 1.