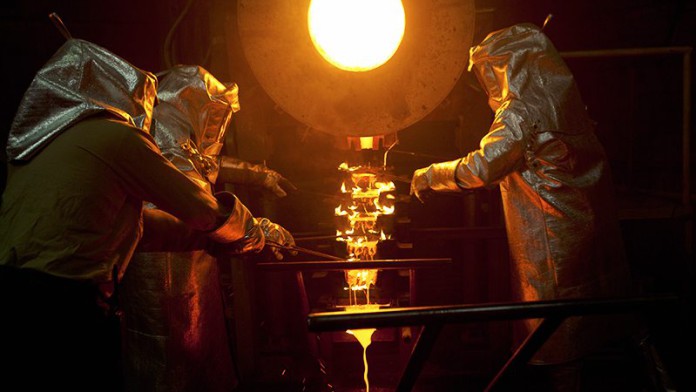 SIBANYE-Stillwater extended its debt-reduction programme by $125m (R1.75bn) after agreeing with Citibank to sell forward 105,906 ounces of gold in the fourth quarter of its 2019 financial year – a development that takes total de-leveraging this week to R3.45bn.
"The gold pre-payment, in addition to the share placing announced earlier this week, are both strategic and pre-emptive levers to enhance our balance sheet flexibility and ensure that the group is appropriately positioned and sufficiently robust to endure any exogenous challenges," said Neal Froneman, CEO of Sibanye-Stillwater in an announcement.
Shares in the company shed 1.36% on the Johannesburg Stock Exchange at the time of writing taking total losses for the last two days to nearly 20%. The stock was down heavily on April 10 after unveiling a share placement in which it raised R1.7bn.
Today's announcement sees the company sell gold at a floor price of $1,200 per ounce and at a cap of $1,323/oz. Proceeds from the gold sale will be put towards repayment of the firm's revolving credit facilities. Sibanye-Stillwater will have R10bn in undrawn facilities.
The company last year raised $500m by selling metals in a streaming transaction of which $400m was used to lower debt. The decision to make further in-roads to its debt, which on a net debt to EBITDA level as 2.5x, was down to the impact of a four-month strike at its gold mines by the Association of Mineworkers & Construction Union (AMCU).
The debt reduction was also to position the group against potential hazards created by wage negotiations with AMCU (and other unions) in respect of a new wage agreement at its platinum group metal (PGM) mines.
Froneman's relationship with AMCU president, Joseph Mathunjwa, couldn't be lower after the union boss at a recent PGM investment conference first decried the notion he was locked in a personal battle with the gold and platinum executive only to characterise him as a modern-day John Cecil Rhodes, the famed colonialist and imperialist.
At some 104,000 ounces for the quarter, gold production was 90% of anticipated production levels, but only 36% the level of production of the first quarter in the previous financial year. "Unit operating and all-in sustaining costs will be negatively impacted by the reduced production levels," Sibanye-Stillwater said.
Sibanye-Stillwater also said earlier this week that its Stillwater in the US got off to a slower than anticipated start to the financial year which compounded its financial challenges. Stillwater's production guidance was unchanged, however.