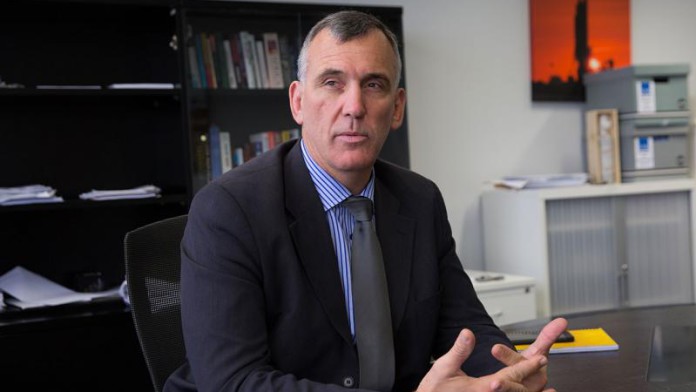 RESOLUTE Mining would debut on the London Stock Exchange on June 20 with ambitions of aggressively growing its annual gold production, said the firm's MD, John Welborn.
"We haven't listed to increase liquidity as we already have good liquidity on the Australian Stock Exchange. It [listing in London] gives us a platform to grow," he said in an interview. "It's part of a much broader style ambition of the type of company we want to become.
"We have an ambition to run four to six value-type mines in Africa in the next four to five years. London is a natural home for the company … in order to capture a global investment audience."
Resolute's existing issued share capital would trade as depository receipts in London with Sydney remaining the primary listed abode. There were no plans to raise capital. Instead, the firm hoped to capture new investors or investors it hadn't heard about yet.
Welborn acknowledged that the departure from the LSE of Randgold Resources which merged with Barrick Gold in January, provided an opportunity. "Resolute would love to be proxy for Randgold," he said. "We have a Randgold type asset [Syama gold mine in Mali] which used to be owned by Randgold. I would love to take that space of being a responsible, dividend paying gold company."
Resolute's short-term ambition is to produce 500,000 ounces a year in gold production, a target to be reached largely off the back of Syama which is being re-engineered into an underground gold mine. Commercial production is due to start in the third quarter at a run rate of about 300,000 oz/year.
The balance of production comes from Resolute's Australian gold mine, Ravenswood, and a yet to be committed capital project at Bibiani, a gold mine in Ghana. March quarter gold production was just over 98,000 oz from Resolute Mining.
"We are very focused on growth. We have two operating assets and a third in development. We are very interested in merger and acquisition activity, but let's get Syama to a level it should be at," said Welborn.
"We are on the cusp of that reality."
He added, however, that over time, Resolute had tended to achieve better returns by developing mines organically. "The ones we've acquired have tended to have a longer payback that the ones we've built," he said of Resolute's corporate history.
Resolute has minority interests ranging from between 16% and 27%in a fleet of exploration companies including Orca Gold, Oklo Resources, Mako Gold and KiloGold that may be one day turned to account.
An investment decision on Bibiani is due in the fourth quarter once the development team at Syama has shifted over, he said. If developed Bibiani would have annual production of about 100,000 oz/year making Syama the flagship on which Resolute's ambitions turn.