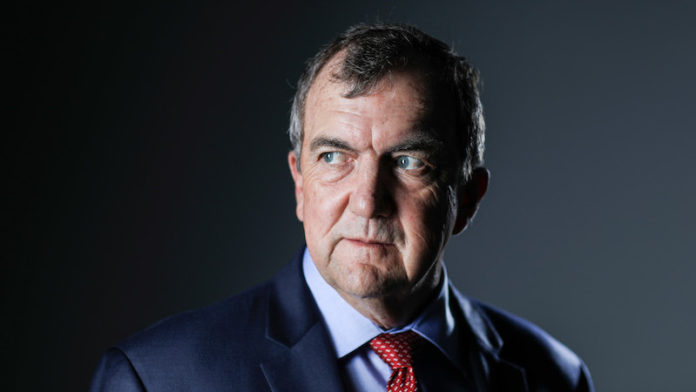 At a time when most people would be thinking about winding down, geologist Mark Bristow took Randgold Resources, the company he'd built up over 20 years, and merged it with Barrick Gold. The ink was barely dry when he attempted another block-buster merger with Newmont. He reflects on 12 breathtaking months with DAVID McKAY.
WEDNESDAY, 08h00 EST.
If you happen to be part of the "star chamber" of executives who survived the merger of Barrick Gold with Randgold Resources, it means you're on a conference call. On the other end is Mark Bristow, Barrick Gold CEO, though it might be difficult to know where.
Certainly not "head office", which in the Bristow lexicon means ponderous inefficiency. The corporate office, as it is now termed, is still Barrick's 161 Bay Street address in Toronto, but Bristow prefers his managers to do as he does by locating to the operations. At the time of the interview, he's in transit at Heathrow, heading out to South America.
Barrick's regional chief operating officers start the discussion – which will be one of Catherine Raw, head of Barrick's North American assets; Willem Jacobs (Africa and Middle East); or Mark Hill (Latin American and Australasia). "If you're on budget and plan, you don't need to say anything," says Bristow of the weekly meeting. "You just want to identify the gaps and what you're doing to close them."
Later, the key executives – who are joined in the conversation by "functional leaders" such as head of mining or processing of capital projects, HR and the like – are sent a high-level working note. This is their "to-do" list, as described by themselves, and heard by Bristow.
Working like this avoids the trap of "managing the organisation in arrears" which Bristow likens to "… looking back in the rear-view mirror, rather than forwards, driving at high speed".
This is how Bristow intends to disprove the doubters who say he can't replicate his 20-year long success at Randgold Resources, which was modelled on a similar structure, at a grand old dame of a the company like Barrick Gold. Bristow's blue-print is exactly to transplant the Randgold methodology into Barrick.
The way the meetings are organised, and the manner in which people are deployed, requires each of Barrick's three operating regions to perform discretely as "a Randgold". "What I'm looking for is a whole cadre of leaders running their businesses in parallel so you create an enormously agile organisation," he says. "The idea is to give people maximum freedom with a lot of constraint." The constraints are the targets, the non-negotiable flags of performance; the freedom is how they get there.
But how does this work exactly?
A phrase Bristow returns to frequently in the course of an hour's conversation, is agility, although it can mean different things depending on context. On the micro-level, having managers carrying real-time data in their heads about the mines they manage, is agility. Wider lens: it's a company that stitches in the interests of the community where they operate because it's a business imperative.
ESG (environment, sustainability and governance) has always been a non-negotiable for Randgold. For those who have met him enough, Bristow is no bleeding heart; but he knows community disruption is going to hurt business. A well-run business is going to benefit the community. ESG is a proposition; a transaction. Hard-nosed? Maybe, but it works.
These were the basics of company culture that impressed Barrick chairman, John Thornton. Having agreed to merge the companies, the two held a workshop with 33 Barrick and Randgold executives in London for four days in July, three months before the merger announcement on September 24. "When we set out to do this one of the key things was that question of can you lever what I've done in Randgold in a big organisation?
What I'm looking for is a whole cadre of leaders running their businesses in parallel so you create an enormously agile organisation
"It was all about people and strategy. At Randgold we developed a strategic process where we effectively have a flat structure. You start with a core group of experts with complementary views. I guess, a complementary work ethic and different views because you need that in a team. When I look back at the Randgold team, we've worked extremely well together, but none of us are people who live in each other's pockets."
BRISTOW once pronounced to a dining-room of journalists that, for him, the idea of putting your family first was "a theory", before adding: "That's what you do after work. When you run a big company, you get up early and you work for your money".
That was in 2015. Bristow is older now – he turns 60 this year – but his view of what company culture under his management ought to be is unchanged. "A lot of time in mining, people come to work to do a job; they don't come to work to be part of the business. That's always what made Randgold different because you come to our business."
He acknowledges Thornton for doing some of the hard yards prior to the merger by getting out some of the "entrenched authority" as Bristow describes it; leaving behind the kind of people that might work in the merger. Bristow continued this work and he feels now the organisation has the right people in the right places both at the executive management level and deeper through the company. "Young people are critical. If you look at us, we've got lots of young people.
"You can't lead automation and innovation with an overdose of older engineers. You need unconstrained, modern thinking when it comes to wireless application, engineering, data management, artificial intelligence. That concept."
Bristow is a tireless moderniser but he's driven by an older, fundamental desire to shake up the gold industry. He views himself as the outsider, the only person prepared to react to the failure and complacency of the sector. "One thing I'm clear about is that we've screwed up in the gold industry," he says. Companies have stopped finding gold as the focus fell on exploiting the higher gold price following its 1999/2000 nadir of $255/oz.
Now sitting in the driving seat at Barrick, he's got the ammunition to be more than just the high-performing clever clogs on the periphery. Take the tilt at Newmont Mining.
On February 25, Barrick published details of a letter sent to Newmont Mining's board in which Bristow and Thornton signed off a merger offer of one Barrick share for 2.57 Newmont shares – an offer that would unlock $7bn in synergies. The prospect of the transaction would, among other things, create a giant in African gold mining given Newmont's position in Ghana and Suriname – two assets that Bristow said he was most desirous of owning.
Two weeks and several through-the-media, tit-for-tat exchanges later, the Bristow/Goldberg scrimmage was called off in favour of what perhaps Bristow had been angling at all along – a joint venture between Barrick's processing and mining assets with those of Newmont in Nevada.
Reflecting on the three months of breathtaking activity – the Barrick/Randgold union was only formally concluded on January 1 – Bristow concluded in an interview with Bloomberg News that: "Historically, these opportunities [the joint venture] are very difficult to exploit in a static scenario." The fact is, Barrick and Newmont had not been able to agree on a Nevada joint venture format for decades, notwithstanding some eight attempts in 25 years, according to Bristow. So it took a 'shit-storm' – one of Bristow's favourite phrases – in order to focus minds.
He compares the stasis between Newmont and Barrick as akin to the failure to join up orebodies between farm fences in South Africa. In fact, Barrick had approached Newmont again about a joint venture the day before the merger with Randgold was unveiled. It was rebuffed notwithstanding more attempts by Thornton to arrive at a deal later in the year, in December.
You can't lead automation and innovation with an overdose of older engineers. You need unconstrained, modern thinking when it comes to wireless application, engineering, data management, artificial intelligence. That concept
Bristow says the key was Newmont's $10bn proposed offer for Goldcorp, a joint venture it had been pursuing and announced in January. "When they made that bid for Goldcorp, and the market hesitated, it was an opportunity, a very real opportunity which had two large potential outcomes," says Bristow of either the full-blown merger or the joint venture.
"Everyone recognised the logic for the joint venture, just no-one wanted to give up the ownership and you couldn't unlock the synergies if you had a committee driving consensus. So very quickly, in a hostile environment, with the respective organisations having quite different, but clear strategies, the realisation of that 25-year old unfinished business was really quite simple," he says.
All hostilities between the companies have since evaporated, claims Bristow. "Although it started in a hostile engagement, it very quickly got to a friendly alignment because it makes the most logical sense." He omits to say is that the joint venture is controlled by Barrick.
BRISTOW acknowledges Nevada Gold Mines does provide a bit more space and time to assess the assets in the group that will be non-core, and ejected. After the initial excitement that the creation of a Bristow-led Barrick would lead to a domino-effect of industry consolidation, progress on that front has been slow.
Bristow says the Lumwana gold/copper mine in Zambia is low grade, and definitely not a tier one asset even though it is profitable now. (He is, however, extremely bullish on having copper within the group given the rise of electric vehicle usage). "Then you've got smaller assets like Tongon [in Côte d'lvoire] which is very cash positive but it has a three-year life and maybe another two, but not quite banked yet.
We are definitely getting rid of non-core assets because they take up too much time
"There is Massawa with significant value, an NPV of about $400m to $500m, but we could manage that better in combination with something else. That's the way I look at it: how do you bring that to account as a business," he says.
It's hard to comment on what will happen regarding Barrick's 63.9% stake in Acacia Mining, the UK-listed firm which is locked in a tax dispute with the Tanzanian government. At the time of writing this is the moving target in the Barrick fold following its offer to take out minority shareholders in Acacia – a transaction that may well be voted down as per the current terms.
Bristow is unable to comment directly.
"We are definitely getting rid of non-core assets because they take up too much time. And then you've got these investments," he says of Acacia. "One of the policies I can point you to is that we don't want to be invested in assets where we don't have an influence on a day to day basis. That is all I can say about that," he says.