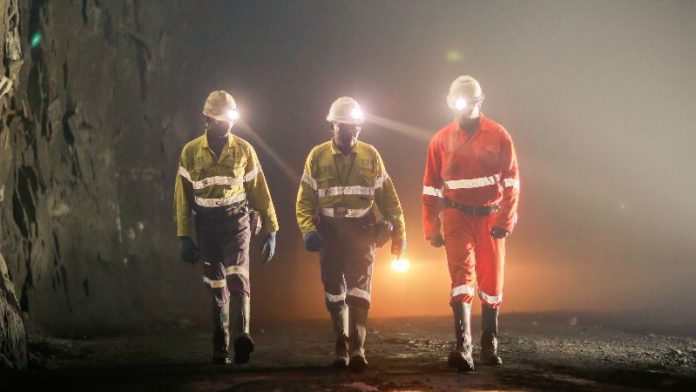 PAN African Resources expects to encounter opposition among some shareholders to its plans to build the R750m Egoli underground mining project, an extension of the Evander Gold Mines orebody which is situated in Mpumalanga province.
"It will require a lot of work with shareholders," said Pan African CEO, Cobus Loots in an interview with Miningmx. "We need to go into this with our eyes wide open."
The company, which produced a strong turnaround in full-year earnings this week, laid off just under 1,000 people when it decided to close loss-making underground mining at Evander. It continues to re-mine surface gold at Evander, but the prospect of returning to underground sections of the mine is not to the liking of some shareholders.
"They are wondering: is this another black hole?" said Loots of Egoli. "Clearly, it will be because it's deep (about 1.8km), but then some shareholders were also against Elikhulu," he said. "We just have to persuade them. Let's go through the process."
The commissioning of the R1.7bn Elikhulu gold retreatment plant last year was one of the main factors that helped the company storm back to profits in 2019. In comparison, Egoli could cost as little as R500m if it's decided a new gold plant is not required. Pan African would also be prepared to enter into a joint venture to develop it.
Pan African is improving on its feasibility study, but at present Egoli has been scoped for some 11 years of mining in which it will produce an estimated 23,500 oz a year during an initial four-year phase, and 79,000 oz/year for the remaining seven years.
An increase in gold production could give Pan African a major boost, especially at the current gold price of just over R708,000 per kilogram. Egoli was scoped assuming a R600,000/kg. Loots suspects shareholders, however, are wary of South African gold. "If this [Egoli] was anywhere else it would be a separately listed company with an attractive market capitalisation".
In the absence of a new project, Loots is happy to pay down corporate debt which, including cash on hand, increased year-on-year to $129.9m from $118m previously. The company would be net cash in two years at the current rand gold price, even with gold hedges locked in at a lower than spot price, he said.
Then there's the prospect of merger and acquisition activity.
Asked about the chances of company buying growth externally, Loots was evasive. Given its position in South Africa's gold retreatment industry, it might have an interest in the gold retreatment facilities of Mine Waste Solutions (MWS) which current owner, AngloGold Ashanti, is selling. "If we were in the data room [running a feasibility on MWS] we would have signed a non disclosure agreement, wouldn't we?" said Loots.