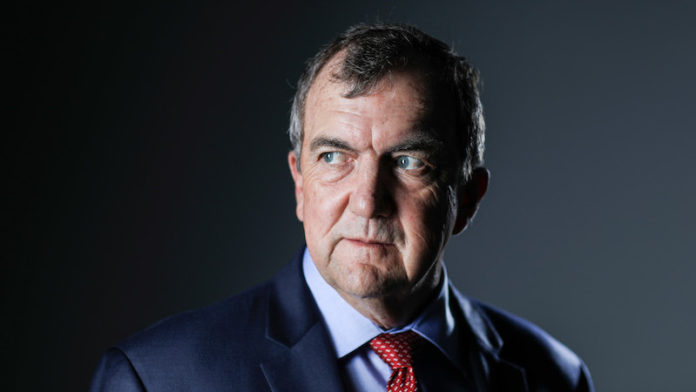 BARRICK Gold is to pay dividends from the 750,000 ounce a year Kibali mine to the Democratic Republic of Congo (DRC) earlier after heading off attempts by the government to sell its 10% stake in the mine.
"We have decided to pay dividends early [to the government," he said, adding that "the carried partner" normally receives payouts towards the end of the mine's life "which makes no sense at all".
Bristow was commenting ahead of the firm's first quarter presentation which was characterised by a strong gold price that helped offset an overall higher cost of production.
In February, the DRC-owned SOMIKO (Societe Miniere de Kilo-Moto) hatched plans to sell its 10% stake in Kibali to a Toronto-listed gold junior mining firm, AJN Resources, which has long-standing Congo businessman Klaus Eckhof as its CEO.
In the end, Barrick Gold and its 45% equal partner, AngloGold Ashanti, threatened AJN Resources with legal action. Barrick argued the mine's partners had pre-emptive rights over SOKIMO's stake. The mine was valued at $2.1bn in 2014 by Investec at a time when the gold price was trading between $1,220 to $1,340/oz compared to a current price of  about $1,685/oz.
Bristow was damning of Eckhof's role in the attempted transaction. "It was a complete rip-off by Klaus Eckhof. He's not a person we should be encouraging to play in this industry," said Bristow in a telephonic interview with Miningmx.
"We agreed with SOKIMO to arrange early dividends, as we did in Mali even though the regulations don't provide for it," said Bristow of a similar situation he negotiated when he was CEO of Randgold Resources.
"We have it on good authority that the Congolese government has filed complaints about his [Eckhof's] behaviour," said Bristow. "He exploited the transition [of government] whereas now we have a real cabinet in the DRC so all that has stopped now."
The DRC conducted national presidential elections in early 2019, but it didn't appoint a full time cabinet until some nine months later. "I can assure you now, our relationship with the DRC government and civil society has never been stronger," said Bristow.
Barrick emerged relatively unscathed from the onset of the COVID-19 pandemic in the first quarter of its 2020 financial year announcing today a 7 US cents/share dividend. The performance was largely set up by a much stronger gold price registering a first quarter year-on-year increase of $282/oz to average $1,589/oz.
The increase in the dollar gold price was a response to expectations of a global recession. Nearly all economies, except India and China, are expected to report negative GDP growth in 2020.
For Barrick, the outcome was first quarter net earnings of $400m which compares to $111m reported in the first quarter of the group's 2019 financial year. On an adjusted basis, net earnings were $285m (2019 Q1: $184m).
Share earnings were 22 US cents for the quarter ($0.6/share) and adjusted net earnings per share came in at 16c versus 11c in the first quarter of 2019.
Free cash flow totalled $438m compared to $146m last year when the realised gold price was $1,307/oz. Debt net of cash was reduced by a further 17% from the end of fourth quarter to $1.85bn with no significant maturities until 2033
Barrick produced 1.25 million ounces of gold in the first quarter compared to 1.37 million oz in the first quarter of last year, a decline of 9%. This was mined at an all in sustaining cost (AISC) of $954/oz compared to $825/oz in the first quarter of 2019 – 16% higher.
Barrick has guided to gold production of between 4.6 million to five million oz for this year at an AISC of $920 to $970/oz.
It had, however, withdrawn full year guidance for Porgera, its Papua New Guinea mine, amid a dispute the government which has declined to renew the operation's 20-year mining licence. "Barrick has said it will contest the move, which it regards as tantamount to nationalisation without due process," said Bristow in a statement. Barrick has put the mine on care and maintenance.
Bristow said the group had been served well by institutional knowledge inherited from Randgold Resources in respect of tackling COVID-19 as the firm had previous experience with two outbreaks of the Ebola virus in Africa.