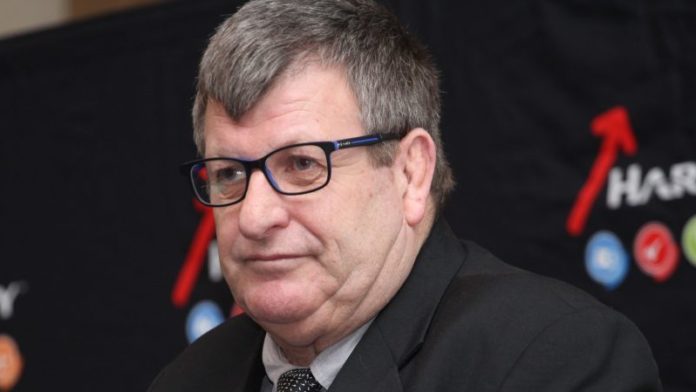 HARMONY Gold is to capitalise on the doubling of its share price since early March by issuing shares aimed at raising $200m required to partially complete the $300m purchase of AngloGold Ashanti's Mponeng and Mine Waste Solutions (MWS) assets.
The decision to plump for a share issue comes as "uncertainty is the current state of play", – so described by Harmony CEO, Peter Steenkamp, in a third quarter production results conference call today.
As a result of COVID-19 related national lockdown, which was eased such that Harmony is able to mine at 50% of production from this month, future cash flow generation has been potentially compromised, notwithstanding the strong second quarter performance.
"The board believes that having the ability to implement the potential equity capital raising through one or more of the above approvals would grant it the greatest flexibility in the circumstance," said Harmony in a statement to the Johannesburg Stock Exchange (JSE).
Shares in the company, which reached an eight-year high of R72,37/share on April 24, were down 5.5% towards the end of trade. Harmony is currently valued at R36.3bn.
Steenkamp had good news for shareholders as the operating performance this year had been "better than expected", the COVID-19 lockdown response notwithstanding. Half of the firm's underground workforce was now back at the firm's operations in line with government lockdown amendments (Level 4), he said.
"We are going to mine all the high grade panels to start with just to get a bit better production out," said Steenkamp. He declined to make a fourth quarter gold production forecast [Harmony has a June 30 year-end], but said he anticipated returning to 100% production should the government downgrade the lockdown to Level 3.
Lost production would be made up by working weekends, public holidays and through a fore-shortened calendar year-end break which would most likely only be three or five days by dint of an agreement with unions prior to the end of the Level 5 lockdown, said Steenkamp. "We've put in a huge amount of effort to get all our stakeholders over the line," he said.
Harmony said today third quarter production came in 9% lower quarter-on-quarter at some 302,312 ounces taking production for the nine months of the financial year to 990,691 oz, just off the 1.03 million oz produced at the same point last year.
However, the improvement in the gold price – some 22% higher in March than in the preceding December quarter owing to rand weakness and an increased dollar gold price – helped more than double the operating cash flow margin to 13% from 6%.
CASH FOR SHARES
Notwithstanding the improved cash generating ability, new business development executive at Harmony, Frank Abbott, said equity financing the largest portion of the AngloGold deal was prudent.
The company will have raised $480m over the last three years re-opening Hidden Valley in Papua New Guinea and buying Moab Khotsong from AngloGold of which only $100m was sourced from the equity markets. "So now we have decided that given the current conditions we would go to the equity market," he said.
"The dilution of shareholders will be more than made up by profits from gold mining at Mponeng, especially if the gold price stays the same. The gold price and currency are already major volatilities in our lives," he said.
The agreement to buy Mponeng and MWS from AngloGold consists of $200m on deal closure with the balance payable by means of a royalty of $260 per ounce on underground gold mined in excess of 250,000 ounces a year for six years starting January 1, 2021.
Harmony Gold said previously that absorbing Mponeng and MWS into its portfolio would add 350,000 oz annually to production which has been guided to about 1.4 million oz in the current financial year.
The deal also increases Harmony's South African reserves by 8.27 million oz excluding Mponeng's reserves below existing infrastructure. The purchase of Moab Khotsong added some 250,000 oz to Harmony's annual gold production.
An extraordinary general meeting of shareholders has been called to consider the share issue for June 11 with results likely the next day.