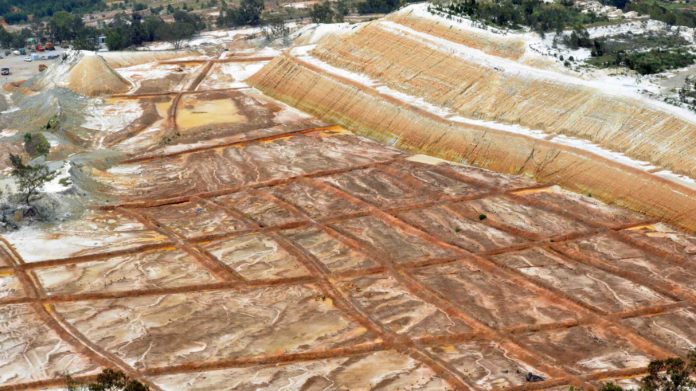 A LEGAL dispute over the status of the Mintails gold retreatment project west of Johannesburg was "not a showstopper", said Cobus Loots, CEO of Pan African Resources, the Johannesburg-listed firm that has an option to develop the project.
Loots said at Pan African's annual results presentation today that the South African registered company, Mintails SA (Pty) Ltd had applied to the High Court to have the company placed back into business rescue.
Loots added that this left the status of the company "in limbo". Prior to the court application, the prospect was held in provisional liquidation.
Earlier this year, Pan African signed a R50m deal with the provisional liquidator of Mintails paving the way for it to develop the Mogale cluster of the tailings resource. This would deliver about 533,000 ounces of gold over a 12 year period.
The project is part of Pan African's plans to grow gold production to 250,000 oz annually from some 195,000 oz it plans to produce in the current financial year.
Loots declined to comment on the motivation behind the application but said he hoped it would be resolved "in the coming months", adding however that Pan African had the right to withdraw from the project.
Mintails has been mired in controversy for several years. A report by the investigative journalism unit, Oxpeckers said former Mintails management had failed to provide for some R450m in estimated rehabilitation charges.
Loot said a detailed study estimated the rehabilitation charge would amount to about R200m falling to R100m net of having developed the resource. He remained bullish that the Mintails Mogale cluster would be mined by his company.
"You are buying one million ounces sitting on dumps. We know what recoveries we can achieve, we know what the cost and the capital expenditure will be.
"There are lots of pieces of puzzle that need to fit together, but there's nothing that's a showstopper here," he said in an interview.
"We don't want to put a timeline on it [the development]. You can't dabble in these projects, you have to do them at scale. You must go big and do them properly. But where else in the world can you find a million ounces of gold sitting on surface producing 50,000 oz a year at a cash cost of less than $1,000 per ounce," he said.
Pan African previously suggested the cost of developing Mintails – which has been put at between R2bn to R3bn (including Mintails' SA Soweto Cluster) – could be funded by a green bond.