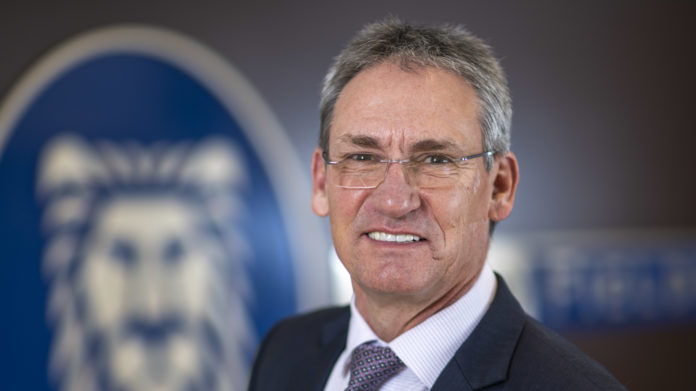 FORMER Gold Fields CEO Nick Holland won plaudits for having invested in new gold production, especially at a time when the gold price was relatively low.
He established a base of about two million ounces in gold annually for 10 years, a development which was all the more notable because the sector had been reticent to invest in new gold resources. Securing future production was to some extent reflected in Gold Fields' share price which gained 43% compare to a slim 3.5% gain for rival AngloGold Ashanti over the course of 2020.
Today, however, that's not enough.
Chris Griffith, Gold Fields CEO, is keen to arrest the decline in the firm's production from a peak of 2.7 million oz in 2024. He hopes to achieve this through a combination of acquisitions and organic growth. The plans are strategic at this stage.
Whilst Griffith is keen to talk about chasing 'value over volume' – a popular mining principle since the collapse of the commodity super-cycle in 2013 – his interest in avoiding a slide in production off historically high levels for Gold Fields, sounds like keeping up appearances.
Griffith responds that the key to maintaining a share price premium is first and foremost having quality assets, management credibility, and a quality in the jurisdiction of the asset. Beyond that, however, size does seem to matter, he says.
"There is some correlation to size as long as you've got those other things in place," Griffith said in an interview with Miningmx shortly after the group reported its interim numbers in August. "If you've just got size but have some other challenges, then you don't get to 'base two'" of how investment analysts rate the share, he says.
"With the jurisdictions we have got, and where we are growing, and having created value of 2.7 million oz … to let that slip off the other side of the hill doesn't feel like the right long-term solution."
Buying mines, not companies
What's not planned, however, is the takeover of companies which would appear to rule out a bid for the other half of Ghana assets held in joint venture with Toronto listed Asanko Gold. "We've been good at buying assets rather than companies," he says. Gold Fields' Australian mines will be operating for 20 years even though they had a life of less than 10 years when they were first bought.
Griffith is ambitious by nature so it's no surprise the high water mark of 2.7 million oz is one he wants to maintain for Gold Fields. Given his former role as CEO of Anglo American Platinum, the market also speculated he could push Gold Fields into metal diversification. That is not on the radar at the present time.
"At the moment there's no focus on other commodities. It doesn't mean we'll never do it, but it's not what the market or shareholders want," he said in response to an analyst question.
Gold Fields is also sticking with its South African mine South Deep instead of selling it, as had been speculated. The theory is that South Deep, a mine bought in 2006 for R22bn, was Holland's pet project and that Griffith would be tempted to sell it, partly to dispense with the jurisdictional albatross of South Africa.
"It has all the hallmarks of a Gold Fields franchise asset," said Griffith. It's a logical conclusion: South Deep has now made money for the last two years, and it's safer to keep the mine ticking over rather than risk someone else capitalising on Gold Fields work of the last 15 years.