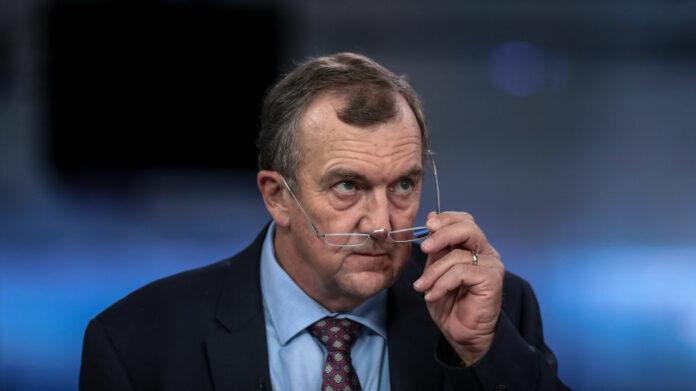 BARRICK Gold CEO Mark Bristow says he wants to grow his group but he is targetting  sustainably profitable growth and his priority is to grow organically rather than through merger and acquisition activity.
Bristow was being interviewed post the announcement that rival gold mining group Newmont had launched a $16.9bn non-binding merger proposal to take over Australian major gold producer Newcrest.
"We are looking at M&A possibilities all the time but we are very mindful of the risks. When you are doing mergers of ageing assets you have to be mindful of what you are buying. Then you have to be clear on whether you are doing this just to be bigger or are you doing it for real value," he said.
Asked what he thought of the Newmont bid for Newcrest Bristow replied: "I don't know. I am puzzled about this. I find it hard to get my head around".
There's a lot of needle between Barrick and Newmont as was made very clear in Monday's presentations to the Mining Indaba being held in Cape Town by Bristow and his counterpart at Newmont, Tom Palmer.
Their antagonistic history goes back at least four years to the creation of the enlarged Barrick Gold when Barrick merged with Randgold Resources and Bristow was made CEO.
He promptly launched a bid for Newmont which resulted in the merger of their respective Nevada gold operations, but Bristow at the time indicated that Newmont remained "unfinished business".
Asked about this today, he replied "then they did the Goldcorp deal which took away a lot".
Barrick holds a 65% stake in the merged Nevada entity which it operates and Bristow harped on that point today in a comparison of the size of the two groups.
Palmer, presenting immediately ahead of Bristow, stated that Newmont is the world's largest gold producer with annual output of six million ounces and described his group as "the world's leading gold company".
Barrick – by comparison – produces around 4.4 million ounces annually, but Bristow commented that "We are frequently referred to as the world's second largest gold miner. I would like to point out that, in terms of ounces produced under our management, we are actually the largest".
That was a clear dig at Newmont because the 'ounces under management' that Bristow is referring to belong to Newmont at Nevada and the Pueblo Viejo mine in the Dominican Republic. "We operate the whole of Nevada. We operate the whole of Pueblo Viejo (in which Newmont has a 40% stake). We don't joint venture them. So we operate nearly 40% of Newmont's production".
Bristow also described Barrick as "the world's most valued gold mining company with world's best gold assets".
Barrick's sweet spot
Bristow reckons Barrick is in a sweet spot. "We did not get caught up in these $1,900/oz deals. We have just been rated A3 with a stable outlook by Moody's which is the highest rating in the sector. That upgrade reflects the enormous progress we have made in strengthening our balance sheet and managing our capital structure over the past three years. We also have a better asset profile today than we had four years ago.
"We are replacing the ounces we mine. When you are not replacing the ounces you mine you have to keep buying regardless because otherwise you run out. Look at what happened to Gold Fields. What drove Gold Fields to do that stupid Yamana deal was it suddenly woke up to the fact it had a cliff in front of it.
"That deal was not well considered at all. It made a lot more sense for Yamana than for Gold Fields. A merger between Gold Fields and AngloGold would be a far better and more logical option for Gold Fields."