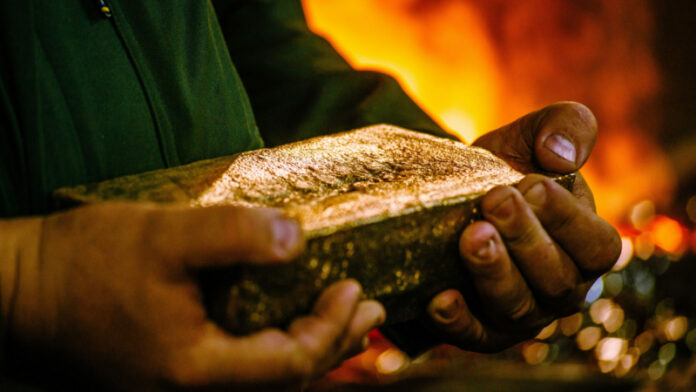 HARMONY Gold kicked off its 2024 financial year in barnstorming fashion reporting today first quarter operating free cash of R3.2bn – nearly four times better than a year ago – driven by a surging rand gold price which averaged R1.13m for every kilogram produced.
The South African gold miner also continued to mine high grade areas at its Mponeng and Moab Khotsong operations whilst Hidden Valley in Papua New Guinea (PNG) also performed well. The group's average grade increased 18% year-on-year to 6.29 grams per ton, contributing towards a 17% increase in gold production to 425,130 ounces (13,223kg).
Harmony said while it was early days it was confident of hitting full year production guidance for 2024 of between 1.38 to 1.48 million oz produced at an all-in sustaining cost (AISC) of R975,000/kg. The group's grade guidance for the year is 5.6 to 5.75g/t suggesting how stand-out the first quarter's grade performance is. AISC for the first quarter was R841,436/kg, a 7% year-on-year improvement.
Given Harmony's significant project pipeline – the company is committed to capital project spend of some R6.5bn this financial year – net debt was reduced to R117m. This is a major improvement on net debt of R2.73bn at the close of the firm's 2023 financial year as of June 30.
The dollar gold price has been buoyant owing to a short-term geopolitical risk premium as well as robust central bank and investment buying amid high inflation and the sluggish recovery of China's economy. At the time of writing, the gold price is $1,938/oz – 6.2% higher year-to-date, and nearly 10% higher over the last 12 months.
With Harmony's Wafi-Golpu project back on the agenda following the signing of a memorandum of understanding (MoU) with the PNG government last quarter, the company is as fair set as it's been in recent times. Decisions around its long-term capital programme, including a feasibility into the development of Mponeng Deeps, potentially a multi-billion rand project, have to be made by year-end.
One major negative of the first quarter, however, is that Harmony may have to extend the timeline on the development of its Eva Copper project in Australia. Harmony said in its first quarter announcement that a new permit was required in order to install renewable power supply to the project.
"Harmony continues to receive good support from the state and local level stakeholders as we progress the Eva Copper Mine Project for the benefit of all our stakeholders," the group said today. "We will continue providing updates on the progress of the study and the permitting process."
Shares in the company were nearly 7% higher in early Johannesburg trade. On a year to date basis, the stock is 47% higher.