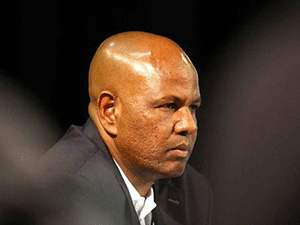 [miningmx.com] – THE South African government's Operation Phakisa, a programme aimed at tackling some of the mining sector's ills, will be convened without the participation of the Association of Mineworkers & Construction Union (AMCU).
Speaking at the Joburg Indaba, a mining conference, Joseph Mathunjwa, president of the union, claimed not to know what Operation Phakisa was about, and added that his unions would not be attending.
"I don't even know what Phakisa is and what it intends to do," said Mathunjwa. "We were invited to Phakisa yesterday. Some of these things we don't attend because they don't make sense," he said.
One of the aims of Operation Phakisa is to seek to modernise the South African mining industry by focusing attention on the social and labour needs of the industry. But Mathunjwa was unmoved.
"You cannot modernise the mining sector until we address the era of the past," he said. "The structural imbalance in salaries has not changed since 1995; migrant labour also has to be changed," said Mathunjwa.
Mathunjwa's rebuff of Operation Phakisa was one of many barbs directed by the union leader towards the government in which he said it was only interested in promoting policies of offshore investors who had no interest in mineworkers.
"The government should realise that the current system that it is using for investment doesn't work for South Africa," he said.
Mathunjwa also said his union would be in favour of nationalisation of the mining sector if that was a means of tackling inequality. "If nationalisation will address the challenges faced by country, then so be it. There's no issue about that," he said.
PENALISED
Mathunjwa was in conversation at the Joburg with Bernard Swanepoel and Impala Platinum CEO, Terence Goodlace – an individual with whom he has crossed swords following three years of wage negotiations and strike activity.
Goodlace disclosed that he had been cricitised by international investors in the past for making the case for his company's social and labour goals.
"When we start raising issues of housing, having families in and about the property, and changing the wage gap, I get the sense that peoples' eyes glaze over. I was accused two years ago of putting to much of that in an investor roadshow," said Goodlace.
"There needs to be a realism that we have to do what's right for our people and for our country," said Goodlace who added, however, that a dual and equally important aim was to run the mines more productively.
"When we are sitting in an environment of low productivity and low prices … we have to work together to try solve the productivity issue so there's cash left over to do all these things," he said in particular reference to the company's housing plan.
"A key aspect when we did our capital raising, notwithstanding the fact that we needed to finish our capital projects, is that we said we would not interrupt anything we plan from social and labour as that is core," he said.
Mathunjwa said earlier that the issue of productivity was only raised by mining companies and investors when there was financial hardship. "When they [the mining companies] are profitable, no-one talks about production; only when the profit begins to smell, then they talk about it," he said.