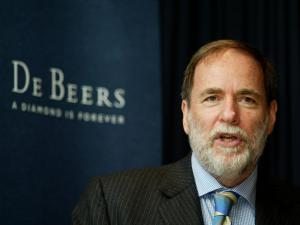 [miningmx.com] – THE likelihood of mining shares re-populating the JSE's top 20 index in 2016 is remote with commodities being tipped to rattle along at the bottom for most of the year or possibly weaken further.
At the moment, only Glencore and BHP Billiton are in the index compared to several years ago when roughly a third of it was commodity linked if you included Sasol, the petrochemical firm that mines more than 20 million tonnes of coal a year. Impala Platinum, Anglo American Platinum, Lonmin, Kumba Iron Ore have all slipped down the rankings drastically.
And for those among us still into into fun facts in these joyless times, how about the $5.1bn the Oppenheimer family earned from the sale of its 40% stake in De Beers to Cynthia Carroll's Anglo American in 2011?
At the current rand/dollar exchange rate, that's enough to buy Anglo American in its entirety. At the time of writing, Anglo American was the JSE's 26th most valuable company with a market value of R82bn.
Whilst disappointing, the outlook for the commodity market could hardly be described as a surprise.
"The past five years have been the worst period of mining sector performance since 1966; we see no reason for this to abate in 2016," said Barclays Capital in a note. "A demand shock seems every more unlikely given the state of China's economy with currency weakness being the latest scare," it said.
Barclays added that there appeared to be an over-reliance on iron ore for pre-tax profits in the sector as a whole owing the continued profitability of the massive iron ore mines owned by just two players: BHP Billiton (5th on the JSE) and Rio Tinto.
According to the bank, iron ore will supply roughly two-thirds of total earnings before interest, tax and depreciation as the profitability of mining other metals, such as copper and oil do not contribute towards positive EBIT at all.
Trading of minerals and metals, one of the principle activities of Glencore (7th on the JSE), will contribute about 14% of all EBIT for the sector in 2016. Zinc, aluminium and diamonds would comprise 2%, 4% and 6% respectively.
It believed that gold would offer some stability on the basis of haven buying and despite moving into a period of interest rate increases in the US – not a view shared by all analysts, but the platinum group metal (PGM) market was "uninvestible", in its view.
Said Bank of America Merrill Lynch: "Producers have so far been reluctant to curtail production, despite relentless price declines. We are concerned that another leg lower in prices may be necessary to incentivise another round of cuts for a range of materials," it said.
Its view on the PGM market was that sentiment around platinum had been hit particularly hard by the Volkswagen emissions scandal in respect of its diesel engines. "While the company continues to remedy the problem, we believe the immediate implications for metal demand remain limited,' it said.
"As such we expect platinum to continue bottoming out, although this may be a long and drawn-out process," it added.
As for gold, Bank of America Merrill Lynch said the outlook was affected by the likelihood of interest rate increases by the US Federal Reserve. "Moving into 2016, we reinforce our expectation that rising nominal interest rates, combined with low and faling inflation rates will pressure the metal lower," it said.
However, keeping gold above the $1,000/oz – a critical psychological and economic barrier – should be possible in 2016, said Bank of America Merrill Lynch "… partly because jewellery demand increases as the world gets richer and the hangover from the bull market seen before 2012 gradually subsides". The price of gold is currently trading at just below $1,100/oz.