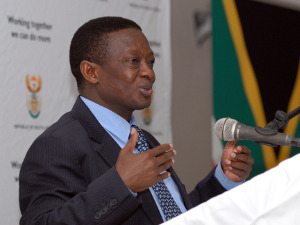 [miningmx.com] – NOW that the African National Congress (ANC) has been safely returned to power following this month's general elections, attention switches to the kind of cabinet president Jacob Zuma will appoint.
One post in particular is cause for interest with mines minister Susan Shabangu indicating last year that 2014 might represent her farewell year to an industry over which she has presided since 2009.
Government's Mining Lekgotla, an annual conference organised with the Chamber of Mines of SA for September says Shabangu will be in attendance and there's a possibility Zuma will seek continuity for an industry where volatility is the norm.
Untll Tuesday's decision to rule himself out of parliament, Mboweni's circulum vitae made him perhaps the best qualified to run the mining portfolio.
As a former labour minister, he would have some understanding of the push and pull between the ANC and Cosatu.
As a former Reserve Bank governor, however, he would equally understand the contribution of export revenues generated by the mining industry to the economy and why it's important the portfolio is run with at least some pro-business sympathies in order to preserve these flows.
Finally, Mboweni has dabbled in the mining sector as a businessman in his own capacity. He was a director and then chairman of AngloGold Ashanti, and in 2012 he and his brother, Alto, won the right to buy up to a 20% stake in iron ore junior Ferrox Holdings for a princely sum of $32m.
That means, Mboweni knows what it's like to have skin in the game in the sector, and how mining policy can influence the sector's investment case.
Unfortunately, he's not in the running preferring to take on his business life with plans for a fund on the way.
Here's a theoretical shortlist for the post.
Susan Shabangu
Starting with the incumbent, there are lots of reasons for having Shabangu serve another term as SA's mines minister. Firstly, the newly amended Minerals & Petroleum Resources Development Act (MPRDA) needs to be steered into practice.
Having been closely involved in the amendment of the act, Shabangu would be best equipped to see it through.
Shabangu has a reputation for unpredictability, and has occasionally upset the sector with her comments, but she's also a known quantity which makes her an obvious choice for Zuma.
Malusi Gigaba
Smooth, eloquent, a career politician (so he says), the current public enterprises minister knows the vigours of managing a complex portfolio.
Public enterprises is the ministry that has direct control over Eskom and Transnet, entities the success of which have a huge bearing on the mining industry. As a result, he will have experience of dealing with the mining sector.
The concern, however, is that the regulatory environment in the mining sector would require a gentle hand whereas Gigaba is known for perhaps more micro-management than perhaps might be required.
The speculation regarding Gigaba is that he has ambitions to one day become the country's president (he among the top three on President Jacob Zuma's election list with Cyril Rampahosa and Naledi Pandor, home affairs minister). Successfully managing the mining sector portfolio would be viewed as another feather in his cap.
Godfrey Oliphant
Oliphant is mines minister, Susan Shabangu's trusted deputy. Capable and knowledgeable of the industry, he is seen as an outsider candidate owing to the fact he doesn't carry huge favour with Zuma.
Oliphant has experience of mining issues reaching further back than his current post when he was a member of the portfolio committee on minerals and energy. He was also a former vice president of the Cosatu, and was a member of the national executive committee on the National Union of Mineworkers. Chances of getting the post? Unlikely.