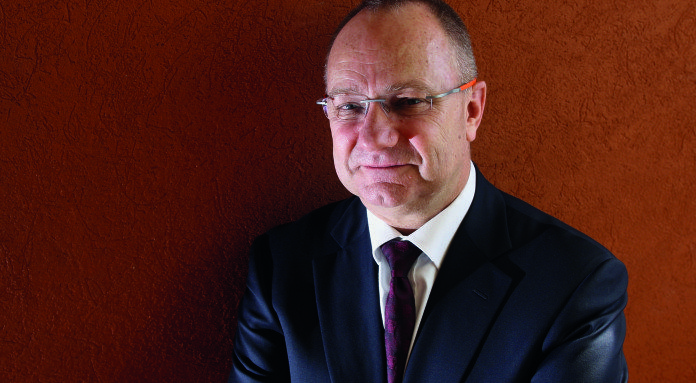 ANGLO American reported a 23% decline in interim earnings of $700m, equal to 54 cents per share (2015: 70c/s) owing to continued declines in the prices of minerals it mines.
However, the under-pressure group made in-roads on net debt which it reduced $1.2bn to $11.7bn by dint of a healthy increase in free cash flow of $1.1bn, a $900m improvement year-on-year and far better than the $400m forecast in February.
Mark Cutifani, CEO of Anglo American, said that increased cash flow had put the company on course to meet its target of taking net debt to below $10bn by the year-end.
This had been achieved through "decisive actions" including an $800m cut in capital expenditure, disposals of $1.5bn, and a 19% cut in dollar-denominated copper equivalent unit costs, said Cutifani.
Slicing through the 19% reduction in costs, roughly 14% had been owing to lower energy charges and favourable changes in currency exchanges such as the South African rand which weakened considerably in December 2015.
Of the group's core and non-core operating divisions, there were significant improvements in its 70%-held Kumba Iron Ore which was now in a R548m ($38.5m) net cash position wiping out R4.6bn ($320m) in net debt.
Anglo American Platinum (Amplats), in which Anglo American has a 79% stake, also generated free cash flow of some R3.2bn ($220m) which enabled it to cut debt a quarter in the six months period.
This contributed towards the generation of some $600m net cash in South Africa, most of which would be available to fund the reinstatement of the dividend which outgoing CFO, René Medori, said was likely to be at the end of 2017.
In terms of the divisional composition of pretax earnings of $1.38bn (2015:$1.88bn), Anglo's 85% investment in De Beers contributed $585m (2015: $576m) whilst the iron ore and manganese, and the coal assets contributed $390m (2015:$510m) and $160m (2015:$267m) respectively.
Including the sale of its phosphate and niobium business for $1.5bn, announced in April, Anglo was already assured of reaching the minimum end of its full-year non-core asset disposal target of $3bn. Another disposal would get it to $4bn, said Cutifani. "If we don't get there, it will be because we can't get value and we are not scared to do this".
However, he would not countenance the idea of holding back on the sale of non-core assets because there had been an uptick in the prices of commodities since the beginning of the year.
"It's far too early to change our view on the strategy," he said responding to analysts following a presentation. "There is still a lot of debt in the market and we are still very cautious on commodities," he said.
"The area where we haven't changed our fundamental view on where commodities is on the supply side," he said. "We are surprised where [the price of] iron ore is, and we think there will be pressure on coal as well. The supply side is a big issue, so we haven't changed our fundamental view and we haven't changed our strategy," he said.
Goldman Sachs hailed the results as "strong" as it beat EBITDA consensus, delivered on its turnaround targets, and took debt down lower than expected.
"Anglo should be able to end the year sub-$10bn net debt without the met coal asset sale in our view," the UK bank said in a morning report to clients.
Cutifani described the performance in sporting terms saying they "were ahead of half time", adding the company knew it had to "play the full 80 minutes (rugby union), but adding "… I would not bet against us".
"We believe the results that we've published today clearly demonstrate we are on track," he said, adding that market conditions in the second half would be "a little tougher". especially as foreign exchange numbers might not provide the uplift of the first half.
In terms of the second wave of restructuring that Anglo announced in February, Cutifani said there were still 7,000 jobs that had to be culled before getting to the 50,000 staff complement. The sale or unbundling of its stake Kumba, as well as the sale of Bokoni Mines (platinum) and Union section (platinum) would contribute to the balance of the reduction.
Said Credit Suisse analyst, Liam Fitzpatrick: "The shares have recovered strongly this year but this set of results should further reduce any remaining balance sheet concerns".
Anglo has stuck by its full guidance of before interest, tax, depreciation and amortisation earnings of $$4.8bn which Credit Suisse considered "overly conservative" given the first half performance and improved commodity prices.
Said Cutifani: "We are 35% smaller in terms of the number of assets but productivity improvements have more than offset that reduction. We still hold the value imperative front and centre in all our conversations.
"We hare ahead of our targets in free cash flow and all our key assets are back where they should be. The $600m leakage in value we identified is down to $200m and improving.
"It is a good start on net debt but we still have a long way to go, but given our free cash flow and value from disposals, those two come together to make a good start … But we are not satisfied".