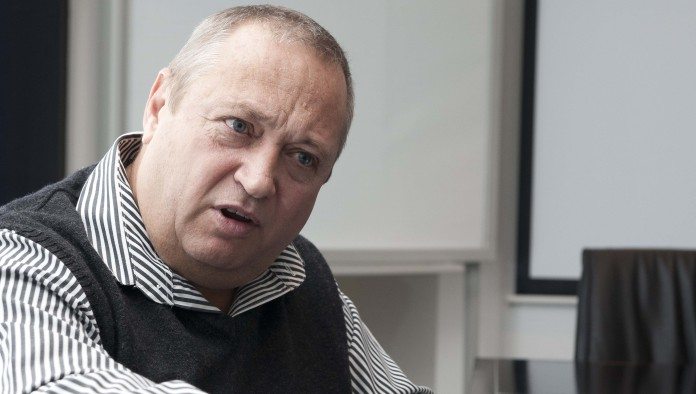 NEAL Froneman, CEO of Sibanye Gold, reiterated his company's interest in helping to form a South African 'mining champion', but he alluded to a difference of opinion with the government on how it might be formed.
Responding to questions at Sibanye's annual investor day today, Froneman said there was "more than one" vision of how the government-supported mining company would look.
In his company's defence, he said that Sibanye had proven mining competence. "I think we have said before we would put our hand up to be considered," said Froneman.
"But there is more than one South African mining champion in that the PIC [Public Investment Corporation] and the government have a slightly different view on what a mining champion would look like," he said.
It is thought the PIC, the state-owned pensions company, would like to consolidate some of the mines Anglo American is hoping to sell, such as its thermal coal mines and even its 70% stake in Kumba Iron Ore, into a single entity.
Government's understanding of this process is that it would be 'winning back' its home grown assets instead of them being sold to 'foreign shareholders' through a highest bidder process.
As a result, it's understood by Miningmx that it wants a grouping of investment interests, including healthy doses of black economic empowerment and womens' groups, to participate in a consortium to bid for the mines including the PIC. The role of Sibanye in such a consortium is unclear with government thought to have antipathy for the company.
The notion of the mining champion dates back to the 18-month period in which Ngoako Ramatlhodi was South African mines minister. During 2014, Ramatlhodi floated the notion that multinational mining firms should sell their South African non-core assets to a government-approved 'national champion' if they planned to divest of such mines.
Froneman believed that excluding his company from such a process would be to exclude strong mining skills. "The single biggest issue is having the core competence of operating mines. That, you don't buy that easily. That is about hard yards and lots of experience and time in the business," said Froneman of the mining champion.
Froneman alluded to other groupings that may want to participate, but he said that "most of them lack operational credibility", adding that "… that's one of our competitive advantages".
He said: "Our interactions with the government have been positive as they recognise us in mining. But we will have to see whether would fulfill that role".
RIGHTS ISSUE
Sibanye would strongly consider cash and debt in order to finance expansions or new acquisitions before issuing shares as the company would not want to risk its "industry-leading dividend yield", said Froneman.
Asked if using the company's equity would ever be an option – shares in Sibanye are 160% stronger year-to-date – Froneman could not rule it out.
"We would look at shareholders first and in a disciplined way approach them to do a rights issue. But that is hypothetical; we can't be an industry-leading dividend player and then willy-nilly issue shares.
"Depending on the transaction, we could look at using equity if our relative valuation was better and it didn't compromise out ability to pay industry-leading dividend yields.
"We could look at debt and equity and if there was substantial debt, we would approach our shareholders with a view to holding a rights issue," he said.
ZWANE
Froneman had nothing but praise for newly appointed mines minister, Mosebenzi Zwane, who he said had grasped the issues of the sector and had been active in the industry.
This spelled potentially good news on regulatory issues in South African mining including progress on the interpretation of the results of the last mining charter audit, and negotiations regarding a new charter.
"We have a relatively new minister: he was completely unknown," said Froneman. "We were really concerned about his knowledge of the mining industry, but he's been very active, very engaging … much more than previous ministers .. with a good understanding of problems facing the industry," he said.
Froneman added that: "… the whole process around declaratory order and the new mining charter – which was unfortunately released in the way it was – … we do see the minister and his officials doing the right thing".
A declaratory order was sought of the High Court by the Chamber of Mines of South Africa regarding the whether the notion of 'once-empowered, always-empowered' was a feature of the mining charter.
The Department of Mineral Resources has disputed the notion and subsquently gazetted a third iteration of the mining charter in parliament in April in which it set down new empowerment targets.
The re-written mining charter is currently subject to negotiations between the chamber and the DMR following a 30-day public comment process that ended in June.