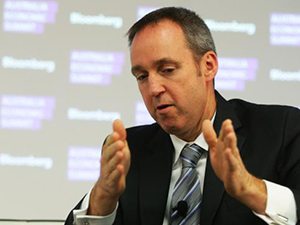 CREATED in the teeth of the commodity price meltdown, South32 offered a glimmer of its future potential paying a maiden 1 US cent a share dividend and saying it was "a much stronger company" than at formation.
The group, established following the demerger of assets from BHP Billiton, posted a taxed loss of $1.6bn for the year ended June 30 which included $1.7bn in impairments.
Underlying earnings, however, came in at $138m, a 76% decline compared to proforma figures which are based on a calculation that assumed the company was in existence from July 1, 2014 to June 30, 2015. The underlying earnings did not take account of once-off costs including $63m in restructuring and the $60m it cost to create the company.
Said Graham Kerr, CEO of South32, in notes to the group's published figures: "12 months on, South32 is a much stronger company with significantly lower costs and a balance sheet that provides flexibility".
The group's figures were dominated by a cost reduction strategy both in operating and expansionary capital. All in all, some $386m was achieved in cost savings during the period while efforts were made to lower project capex.
For instance, the viability of a lower capital cost development plan was being studied for the extension of the group's Klipspruit thermal coal mine in South Africa.
South32 was also assessing ways to "… progress a lower capital cost option to extend the life of the Khutala underground mine", also in South Africa whilst sticking to the cost plus coal sales agreement structure with Eskom.
From an operating perspective, South32 reported record annual production at several assets including Australia Manganese, Worsley Alumina, Brazil Alumina and its Mozal Aluminium plant in Mozambique. Record output was also achieved at Cannington, its Australian zinc producer.
Despite lower average commodity prices year-on-year, and by dint of cost saving measures, free cash flow during the year came in at $597m. Net cash totalled $312m which compared against $402m in net debt when the company opened.
"Despite the bulk of earnings being in line with our expectations, cash flow was around $200m better than we had anticipated," said James Oberholzer, an analyst for Macquarie in a morning note. "Higher fixed asset sales and a lower overall capex spend were the key drivers behind the stronger cash flow result," he said.
Kerr said that production in the current (2017) financial year was unchanged bar a downward revision for Cannington while he couldn't commit to a production forecast from the group's manganese ore operations in South Africa as "… our plans will be adjusted to reflect customer demand given our focus on value over volume".
The South African manganese business, which accounted for $200m of the impairments announced in February, could not be described as "safe", but Kerr said the firm had "pulled the levers it needed to pull".
"The problem is that as soon as we see a slight recovery in manganese ore the market becomes flooded with South African ore," said Kerr, who has previously called for consolidation of the industry to preserve higher prices.
Production from South32's aluminium facilities in South Africa was not at full tilt. Some 22 pots were disabled in September last year "in response to challenging market conditions" – equal to 3% of total production. These are yet to be restarted the group said.
Aluminium production would also continue to be impacted by load-shedding implemented by power utility, Eskom, although South32 said the impact of load-shedding was lower than anticipated in the 2016 financial year.
Thermal coal production at South32's South African mines was set to be stable at some 31 million tonnes in the current financial year with a slight dip in the 2018 financial year. Kerr added that a greater proportion of coal would be sold domestically owing to more competitive export markets.
Most of the group's cost targets for the current financial year were likely to be met except at the manganese business in South Africa.
Said South32 in its financial results: "In this regard our cost target for South Africa Manganese is unlikely to be achieved before the June 2017 half year following the fataility at Wessels in June 2016 and the subsequent reprioritisation of activities in the underground mine".
Capital expenditure for the year was unchanged from a previous estimate at $450m.
Kerr said in an interview that the group had a number of options in the group's portfolio that would allow it to expand provided they contributed to improving cash flow.