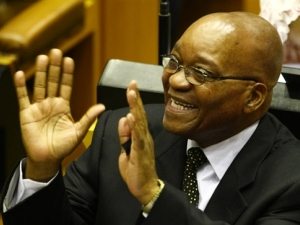 THE South African government has expressed concern regarding "relentless public attacks" on President Jacob Zuma by gold mining firms AngloGold Ashanti and Sibanye Gold.
In a statement issued by The Presidency, it added that Zuma was open to dialogue "if it takes place within the bounds of human decency and decorum".
This follows a speech delivered at the Joburg Indaba, a mining conference, by Sipho Pityana, chairman of AngloGold Ashanti, who called for the resignation of Zuma who he described as "the sponsor of corruption" in South Africa.
He described Zuma as "… a president who at best is missing in action and, at worst, he is a leader at the very root of this crisis – one who has abrogated his constitutional duties" as well as "a president who literally laughs off any suggestion that government be held to a higher standard – and, is, in fact, the sponsor-in-chief of corruption".
"While the Presidency respects the rights of citizens and leaders to freedom of speech, the business sector has many avenues to raise whatever concerns and issues it has with government and/or its leadership," it said in a statement.
"President Zuma values open dialogue and interaction with all sectors in our society. However, such dialogue is more helpful if it takes place within the bounds of human decency and decorum and upholds respect for key institutions and in our country," it said.
Sibanye Gold CEO, Neal Froneman, told Bloomberg News at the Denver Gold Conference on September 20 that Zuma ought to resign as he was hurting the mining sector's ability to attract foreign investment.
"Any solid investor, any solid company is founded on good governance and what we have in South Africa at the moment is very poor governance, from a government point of view," Froneman said.
The criticism of Zuma comes at an awkward time for the South African government which has joined business in making its business case to investors in North America.
"Currently a business, government and labour delegation is in New York to promote the country as an investment destination," said the Presidency. "The President values such collaboration which is good for the economy and our country in general," it added.
"Channels of communication between business and government are open and engagements take place continuously in a healthy and constructive manner," it said.
Pityana's comments, however, resonated heavily with delegates at the Joburg Indaba who gave him a standing ovation. During the speech, Pityana's comments were so acerbic that they drew gasps from the audience.